Broncos offseason to-do list, starting with moving on from Manning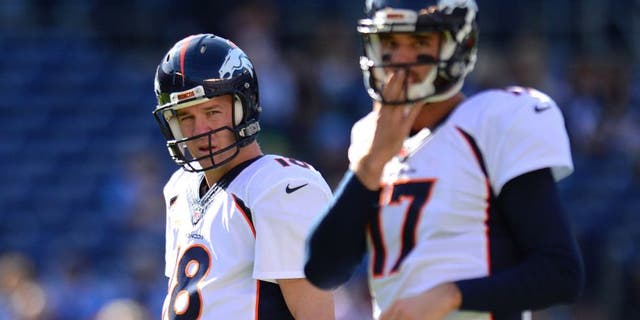 Now that the Super Bowl is over, we're rolling out a get-to-the-point offseason plan for both teams involved. Here's our three-point plan for Denver:
1. PLAN FOR LIFE WITHOUT PEYTON MANNING
Archie Manning said after the Broncos' Super Bowl win that his son Peyton is "done in Denver" if he decides to return for another season. Though Archie didn't say it as a fact, it seemed like it he was hinting at something. Peyton noted after Sunday's win that he hoped to take some time to spend with his family before making a decision on his future. The Broncos must hope that decision comes sooner rather than later, though they almost assuredly already have a plan in place for the future. With Brock Osweiler, who went 4-2 in games he started and finished wile Manning was out, set to hit free agency, the Broncos must decide whether he is the guy they want to move forward with. Osweiler played well before fading and being replaced by Manning in Week 17, and it's likely they'll make him the guy moving forward. Still, having to anoint a new starting QB is a rarity for a Super Bowl team.
2. FRANCHISE TAG VON MILLER
Denver plans to use the franchise tag on Miller then try to work out a deal, NFL Media's Ian Rapoport reported. Miller, fresh off an MVP performance, will try to command one of the richest contracts ever for a defensive player, which is why the tag may be a good interim solution. Miller had 11 sacks in the regular season but took his play to another level with five more in the postseason. The Broncos have no choice but to keep Miller, who is only 26, in the Mile High City long-term.
3. TRY TO KEEP MALIK JACKSON, EVEN IF IT'S A LONG SHOT
The versatile defensive tackle is able to play both inside and out and does a good job assisting in creating a pass rush. Jackson has become one of the very best at his position, but the Broncos' salary-cap situation could make it tough to keep him. The Broncos ponied up an offer to keep Derek Wolfe in town last month. With Osweiler and Miller to take care of, keeping Jackson might have to be sacrificed.
EARLIER TO-DO LISTS
• Tennessee Titans
• Houston Texans
• Cincinnati Bengals
• Minnesota Vikings
• Washington Redskins
• Cleveland Browns
• Dallas Cowboys
• San Diego Chargers
• Kansas City Chiefs
• Green Bay Packers
• Seattle Seahawks
• Pittsburgh Steelers
• San Francisco 49ers
• Baltimore Ravens
• Jacksonville Jaguars
• Tampa Bay Buccaneers
• New England Patriots
• Arizona Cardinals
• Chicago Bears
• New York Giants
• Miami Dolphins
• New Orleans Saints
• Philadelphia Eagles
• Oakland Raiders
• Detroit Lions
• St. Louis Rams
• Indianapolis Colts
• Buffalo Bills
• Atlanta Falcons
• New York Jets
• Carolina Panthers