Brodie scores in OT to lift Flames past Rangers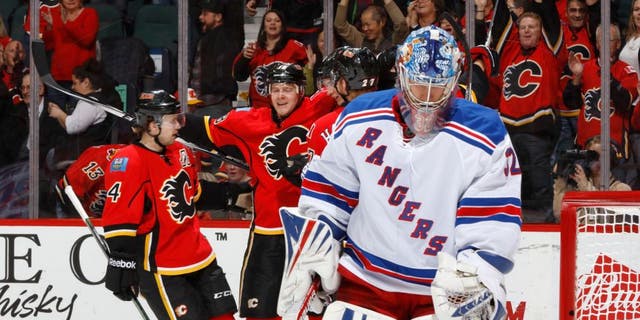 CALGARY, Alberta -- TJ Brodie scored at 2:09 of overtime, Johnny Gaudreau had two goals in regulation, and Calgary recovered after giving up a three-goal lead in the third period to beat the New York Rangers 5-4 on Saturday night for the Flames' ninth straight home victory.
Tanner Glass, Dan Boyle and Mats Zuccarello scored for the Rangers in the final 15 minutes of regulation to tie the score at 4-4.
However, in the extra period, Brodie held the puck on a 2-on-1 rush and put a perfect shot inside the far goal post on Antti Raanta. The goal extended the defenseman's career-best point streak to six games (one goal, six assists).
Joe Colborne and Mason Raymond also scored Calgary (13-14-2), which opens a four-game road trip on Tuesday at Nashville.
The Flames finished off a 5-0 homestand 5-0, just as Edmonton did the night before against the Rangers. In fact, the two Alberta teams swept the same five opponents -- Dallas, Boston, San Jose, Buffalo and New York.
J.T. Miller scored in the first period for the Rangers, who fell to 2-6-2 in their last 10 and finished a 0-2-1 roat trip to western Canada.
Glass started the Rangers comeback with his first of the season at 5:13 of the third - just 16 seconds after Colborne had made it 4-1.
Boyle curled out of the corner and put a backhand past Jonas Hiller with just under 5 minutes to go to pull the Rangers within one. With the goaltender pulled to make it 6-on-4, Zuccarello tied it on a power play with 1:12 remaining.
Gaudreau and Raymond scored 17 seconds apart late in the second period to put the Flames up 2-1. Gaudreau tied it after intercepting Keith Yandle's pass up the middle and ripping a wrist shot past Raanta high on the glove side.
Then, Michael Frolik and Raymond broke in on a 2-on-1 with Raymond neatly one-timing Frolik's pass. It was Raymond's first goal in 15 games and going back to last season and including the playoffs, just his second goal in the last 42 games.
After Gaudreau scored his second 2:32 into the third period on a breakaway, Colborne scored at 4:57, chipping a puck over the shoulder of Raanta.
The Rangers took a 1-0 lead at 10:56 of the first period when Miller buried a pass from Victor Stalberg.
Hiller finished with 25 stops to improve to 4-4-0 while Raanta had 22 saves and fell to 4-3-1.
NOTES: The Flames' nine-game home winning streak is the longest since the franchise record of 10 was set Nov. 7 to Dec. 12, 2006. ... Rangers LW Chris Kreider played in career game No. 200. ... C Jarret Stoll was a healthy scratch for New York. ... D Kris Russell (hand) returned for the Flames after missing three games. D Deryk Engelland was scratchd to make room for Russell.