Brodeur to make eighth straight start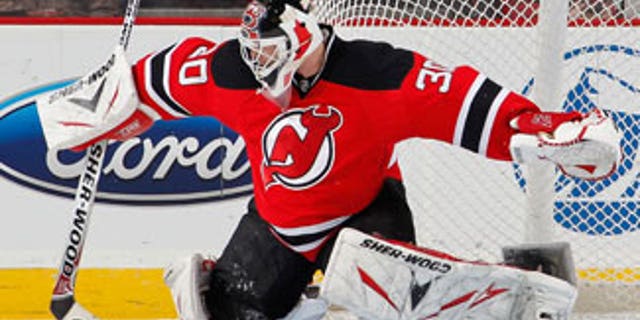 NEWARK, N.J. -- New Jersey Devils goaltender Martin Brodeur will make his eighth straight start Tuesday when his team hosts the Atlanta Thrashers here at the Prudential Center.
The choice is not too much of a surprise, particularly when you consider the future Hall of Fame goalie is 14-1-1 with a 1.81 goals-against average in his last 16 starts. The Devils, 22-3-2 in their last 27 games, have been playing playoff-type hockey for quite some time now as they continue their remarkable push to qualify for the postseason.
"What I'm enjoying right now is, regardless of how we play, we're staying in games," Brodeur said. "Even though we allow goals, we keep it under control when we're not playing that good. I think that makes it easier for me. I know we're able to shut it down and chip back into the game."
Seventeen of their last 19 games have been decided by one goal, including 12 of the last 14 victories. Also, the team's last four wins have been determined either in overtime or the shootout.
The Devils were allowing 3.17 goals per game when they were 15th in the Eastern Conference at 9-23-2 on Dec. 23. Today, they're allowing just 2.55 and are eight points from the eighth and final playoff spot in the Eastern Conference.
"You play the game the way it's played," Brodeur said. "For years that question has been asked to me because we didn't score that many goals and were always in tight games. I don't look at it like, 'I can't allow more than one or two goals.' I don't see it like that. I just play the game the way it's played. At the end of the game, it ends up to be a one-goal game or a 2-1 game or a 3-2 game."
Brodeur, who missed 13 games because of injury this season, is 19-20-2 with a 2.52 GAA and .902 save percentage. Backup John Hedberg is 13-11-2 with a 2.34 GAA and .913 save percentage.