Brock Lesnar: Winning NCAA championship was most difficult physical feat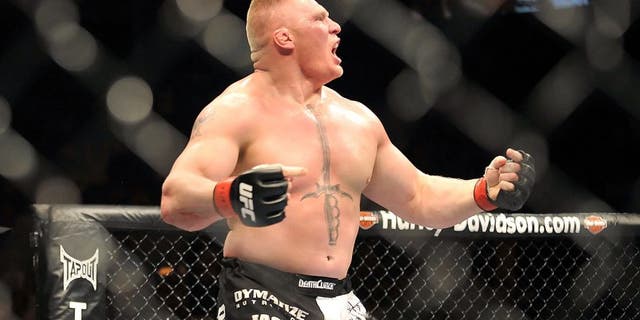 When it's all said and done, Brock Lesnar will undoubtedly go down as one of the greatest multi-sport athletes ever, but there's one accomplishment that stands out ahead of all the others -- and it's not winning the UFC heavyweight title.
Considering Lesnar entered the UFC with one fight on his resume and then went onto conquer the heavyweight division before illness robbed him of the chance to defend the belt on multiple occasions, it would seem that mixed martial arts was probably his toughest challenge to date.
Lesnar disagrees, however, and said in a recent interview that out of all his athletic endeavors, including the UFC as well as going through an NFL training camp with the Minnesota Vikings, that collegiate wrestling still stands out ahead of the pack.
"The most difficult, as I look back at my career, everything has been quite a challenge but I think my most physical feat that I've accomplished was winning an NCAA heavyweight championship," Lesnar told ESPN this week.
Lesnar was an accomplished wrestler throughout his collegiate career but after coming up short in his junior year, he took home the championship in 2000 as part of the Minnesota Golden Gophers wrestling team.
Lesnar left college with an incredible 106-5 record overall, but winning that championship in 2000 still stands as his toughest physical accomplishment over everything else.
"That took me a long time to train for. I started wrestling when I was five years old and it took me until I was like 22 or 23 years old to become that champion," Lesnar said.
"All of my accolades and everything that I've done, none of them have been easy."