Brock Lesnar isn't ruling out another run at the heavyweight title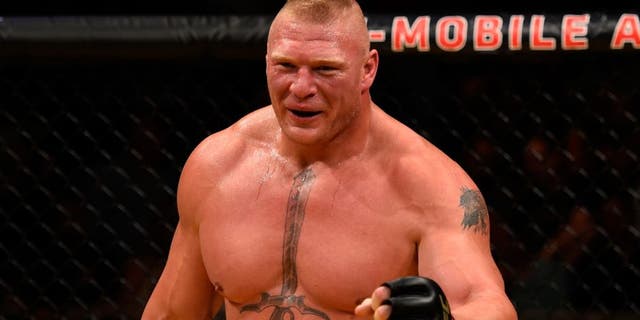 NEWYou can now listen to Fox News articles!
Brock Lesnar can't help but grin at the idea of becoming UFC heavyweight champion again.
It took only Lesnar three fights in his previous stint with the UFC to wrap the belt around his waist after beating Hall of Famer Randy Couture in a vicious second-round knockout.
And after five years away from the sport, a healthy Lesnar returned to the cage last weekend at UFC 200 and dispatched former title contender Mark Hunt after three rounds to get his first win since 2010.
Lesnar, 39, looked at home in the Octagon, and though he hasn't fully committed to another fight just yet it seems almost a certainty that the behemoth heavyweight will want to compete again.
And he's not ruling out another run at the gold.
"I believe any man can do whatever he wants if he puts his mind to it," Lesnar said about potentially becoming champion again after his win at UFC 200.
I've been out of the game for five years and I stepped back into the cage and trained for six weeks and I put a pretty good beating on Mark Hunt. I think anything's possible. -- Brock Lesnar
Of course, Lesnar is still under contract to WWE, where he's set to return to the wrestling ring in August as part of the SummerSlam card, but after a performance like he had against Hunt without much notice to get ready, just about everybody believes he's going to be back in the UFC sooner rather than later.
"He got the job done after five years away from the sport doing professional wrestling; he looked phenomenal," UFC light heavyweight champion Daniel Cormier told FOX Sports about Lesnar's performance.
"He looked in great shape, he's a huge celebrity, he's a huge star, and I think he's one of the top 10 heavyweights in the world. I think he should fight again."
Lesnar hasn't made a commitment to return, but he is still under UFC contract should he decide to fight again.
The heavyweight division has changed a lot since Lesnar's last stint with the promotion, but there are plenty of challenges that might interest him if he fights again.
Besides the title, Lesnar could look to avenge his last loss to Alistair Overeem or even take on a showdown with former champion Cain Velasquez, who took the belt from him in 2010.
Velasquez just so happened to perform at UFC 200 as well, making short work of Travis Browne, and Lesnar was definitely paying attention. In fact, Velasquez presents a challenge that would certainly interest Lesnar -- if he fights again.
"He looked good. Sure, absolutely," Lesnar said about a rematch with Velasquez. "Obviously, I trained specifically for Mark Hunt, and I mean I trained for six weeks for Mark Hunt. If I decided to do this a little further, would I have to sharpen some skills? Absolutely.
"Yeah, Cain looked good tonight. He always looks good."
Whether Lesnar goes after the belt or potentially pursues a revenge tour against the fighters who beat him, the 39-year old heavyweight sure doesn't sound like a guy who is done with fighting after only one trip back to the Octagon.