Brock Lesnar: Dana White wouldn't take my calls to fight in the UFC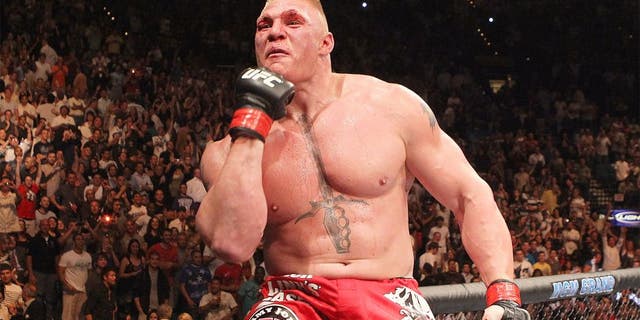 Brock Lesnar was always a physical specimen from his days as an NCAA heavyweight champion to his time as a top superstar in WWE. But when he decided he wanted to fight for the biggest MMA promotion in the world, he couldn't get the boss to call him back.
It all started when Lesnar put an end to his professional wrestling career after battling an addiction to painkillers and alcohol before testing the waters at the NFL and then eventually mixed martial arts.
"I was on the road and I was injured and I was the champion and I didn't want to quit. I had a no-quit attitude. Vicodin and vodka were my closest friends -- and my closest enemies," Lesnar told "SportsCenter".
"I had to get out of the wrestling business back then to save my life. I just wasn't happy. I wasn't happy at the time. I felt like a caged animal. I didn't want that. I still had a competitive nature inside me. I had a calling to go back and compete again."
When his NFL dreams fell short after Lesnar was released during the final cuts of training camp with the Minnesota Vikings, he found that professional fighting suited him much better anyways.
"The next thing I know, I got a phone call saying, 'Are you interested in fighting?' I said absolutely," Lesnar stated. "I gave it a one-fight shot with a company out of Japan and then decided I wanted to be in the UFC."
As much as Lesnar wanted to be in the UFC didn't mean he was going to get an automatic invite.
In fact, Lensar says for all the calls and messages his representatives made trying to get UFC president Dana White on the phone, he just didn't want to respond.
So Lesnar took matters into his own hands.
"Dana White wouldn't take my phone calls. I win my first MMA fight, Dana White won't take my phone calls from my lawyers and manager and so I said fine. Randy Couture was fighting Gabriel Gonzaga for the heavyweight title so I said buy a ticket and we'll go to the show," Lesnar said.
"I bought a ticket, sat in the stands, watched the whole show and at the end of the show, I jumped the guard rail, escaped a few security guards, ran up and tapped Dana White on the shoulder and introduced myself and that's where the ball got started rolling."
It was clearly a good move because just four fights into his career, Lesnar was the UFC heavyweight champion after he defeated Couture at UFC 91 in 2008.
Lesnar also became MMA's biggest draw during the seven fights he spent with the UFC before he retired and returned to WWE, where he is now one of the company's top superstars heading into this weekend's WrestleMania 32 card in Dallas.