British duo ready for Olympic time trial blitz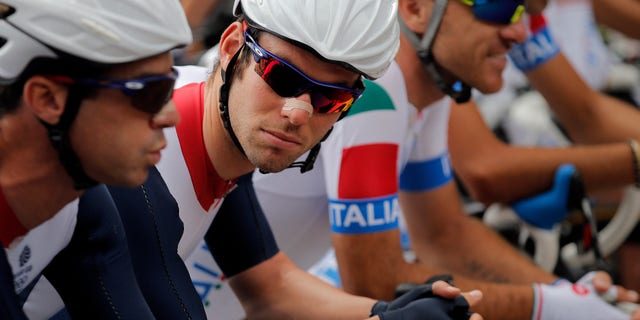 After Mark Cavendish missed out on the gold medal he was craving in the road race, Britain is now looking for a 1-2 in the men's Olympic time trial, the final road cycling event to be held in London.
Britain's racing tacticts were put to sword by a breakaway last weekend, as veteran Alexander Vinokourov of Kazakhstan made the most of his flair to win the Olympic title and leave Cavendish to sprint for nothing but pride on the Mall.
Wednesday's time trial outcome is likely to be different as the race against the clock rarely produces a surprise champion.
Bradley Wiggins is entering the 44-kilometer as the man to beat in the aftermath of a phenomenal season. The 32-year-old cyclist from Kilburn, in northwest London, has been in stellar form over the past six months and raced one of the best time trials of his career less than two weeks ago in the Tour.
"Brad against the world when they're all on their own, he can wrap that up," Wiggins' teammate David Millar said. "He's got such incredible form and he's in such good spirits. I think we'll get our gold medal there."
While defending champion Fabian Cancellara is hampered by a right shoulder injury and Cadel Evans of Australia is out of the race because of exhaustion, the British team has another trump card in his game with Tour runner-up Christopher Froome.
Froome played a key role during the three-week race by protecting Wiggins in the mountains. Despite all the hard work for his leader, he claimed a place on the podium thanks to his solid performances in the race against the clock.
In France, Wiggins won both time trials ahead of his 27-year-old Sky teammate, who looks promised to a bright future.
"All I can do really is go in there and give it my best shot. Brad I think is in the perfect stead for that and the course suits him really well," said Froome, looking for his first Olympic medal.
Wiggins, a former track specialist, already has six Olympic medals to his name. He won his three Olympic titles in Athens and Beijing, in individual and team pursuit. If he finishes on the podium, he will hold one more medal than British former rowing great Steve Redgrave, who has five golds and a bronze.
The race will start and finish at Hampton Court Palace, a former royal residence on the banks of the river Thames. The course features some technical sections and is tailor-made for specialists like Cancellara and reining world champion Tony Martin of Germany.
Cancellara, who dropped out of the Tour early to attend the birth of his second child, will defend his Olympic title despite the right shoulder injury he picked up in a crash during the road race.
The four-time world champion was in the lead group Saturday when he misjudged a late turn and crashed into a barrier. He resumed training on Monday and the Swiss team said he should be able to ride without pain.
Cancellara broke his right collarbone in the Tour of Flanders earlier this year, causing him to miss two months or racing, and thought he may have done so again.
"I am lucky it is not broken, but it feels like it is," he said.
Martin did not finish the road race but looked at ease at the front of the bunch before pulling out. The powerful German athlete withdrew from the Tour early after breaking his wrist in a crash.
"Tony had no choice -- he broke his wrist so that's what he had to do, to go home," Wiggins said. "Fabian had another child, family circumstances and things. I don't know whether he had already planned to pull out."
Taylor Phinney of the United States is confident he can follow up his fourth-place finish in the road race by challenging for a podium finish in the time trial. Phinney carries some massive expectations as the son of Olympic gold medalist Connie Carpenter-Phinney and bronze medalist Davis Phinney, two of the stars of the 1984 Los Angeles Games.
The charismatic young rider also would have been favored in the individual pursuit, but his signature track event was dropped from the program after the Beijing Games, forcing him to shift his focus to the road race and time trial.
"I got fourth place in the road race and was happy to be up there. But it was one of the more difficult places to get at the Olympic Games, and leaving the race with nothing after being so close to a medal," he said.
"So I know my form is good and I have really been working specifically for this. I know that if I have a really good ride I can be up there and I am hungry from the road race. That's extra motivation."
Cancellara wasn't the only defending time trial gold medalist to crash over the weekend. Kristin Armstrong, who came out of retirement two years ago after giving birth to her son Lucas, hit the tarmac in the road race but escaped with only a few bruises and is expected to ride the 29-kilometer race on Wednesday.