Bring on an Oklahoma City-Toronto Raptors NBA Finals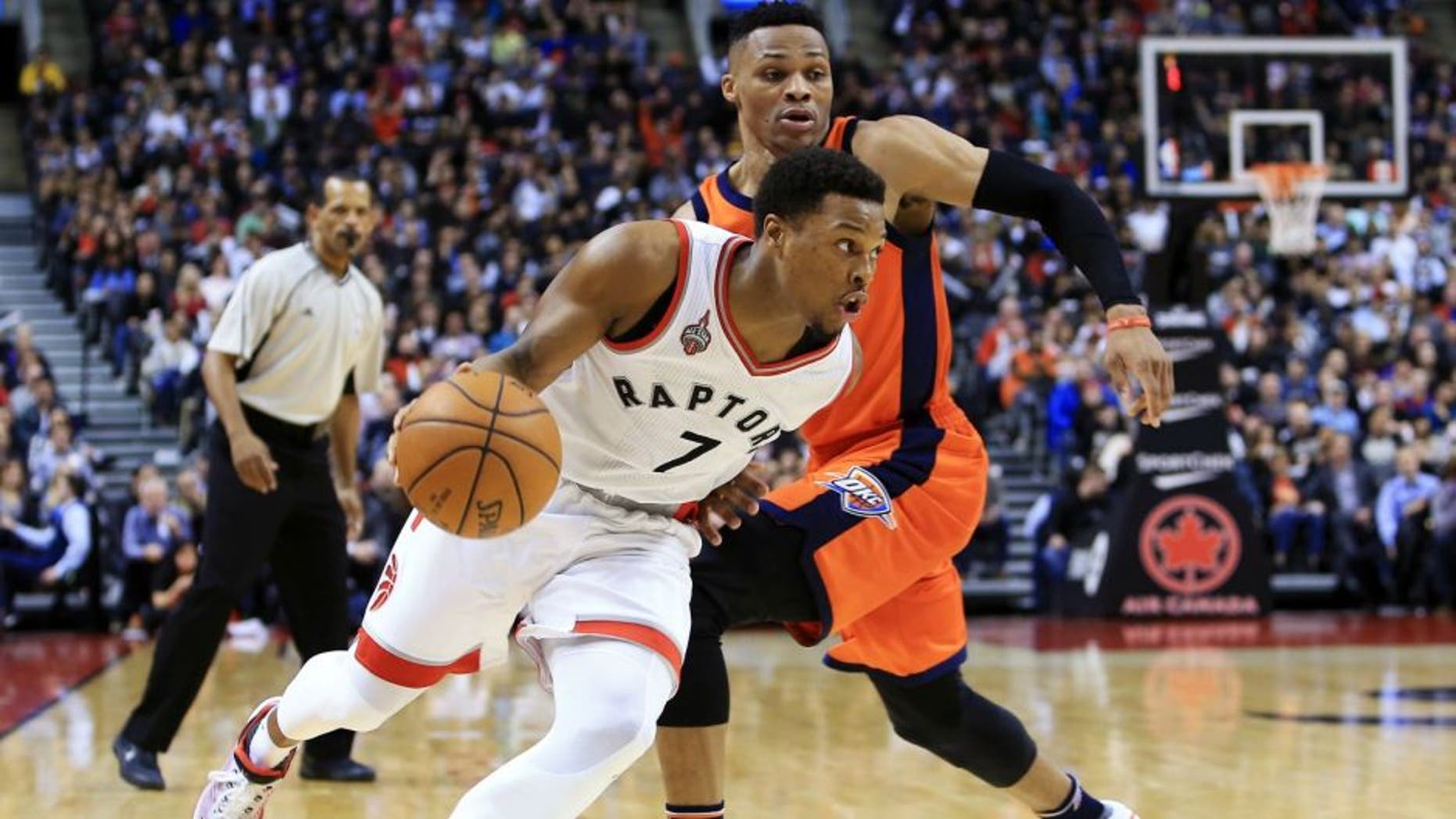 I'm rooting for chaos. I'm pulling for the Toronto Raptors and Oklahoma City Thunder to play in the NBA Finals and there's nothing you can do to stop me. Because it's about time someone finally upset the apple cart.
Since the moment last year's Finals ended, the assumption has been that a repeat would inevitably be in order for the Warriors. And as Golden State rolled through the most dominant regular season in league history, the Cavaliers were the only East team given so much as a shot at dethroning the champs, with some arguing that a healthy Cleveland might even be the favorites to win the crown.
Honestly, there was never much serious consideration given to anyone else. Sure, the 67-win San Antonio Spurs were at least thought to be in the same stratosphere as Golden State, and a potential conference finals series between the two figured to be a doozy, but neither the Thunder nor the rest of the West warranted much discussion as potential party-crashers.
Similarly, the belief seemed to be that the Cavs could sleepwalk to the NBA Finals, and, at least for 10 games, they did. And though Toronto finished just one game behind Cleveland for the top seed in the East -- a fact that's conveniently easy to forget -- the Raptors were viewed as a second-tier team, this despite taking two of three from the Cavs in the regular season.
But now here we are. We're on the verge of an NBA Finals that includes neither of the league's beloved front-runners, and I love it.
After Tuesday's 118-94 home win, the Thunder are up 3-1 on Stephen Curry and the Warriors. There are nine teams in NBA history who have rallied from a 3-1 deficit to win a seven-game series, and certainly Golden State is capable of becoming the 10th, but such a comeback is becoming difficult to fathom given how impressive Russell Westbrook, Kevin Durant & Co. have been of late.
The Raptors, meanwhile, are knotted 2-2 with the Cavs after responding to resounding blowouts in Games 1 and 2 with impressive wins north of the border to tie the series ahead of Wednesday's crucial Game 5 in Cleveland. One can't help but wonder whether the moment might ultimately be too big for Toronto, which entered this year's postseason with one series win in franchise history, but the Raptors seem to go as Kyle Lowry goes, and right now things are going pretty well for the unpredictable All-Star guard.
Of course, I say all this realizing that a Thunder-Raptors Finals would be a series with its share of flaws.
Whereas Warriors-Cavs would be a boon for those who care about TV ratings, OKC-Toronto wouldn't drum up anywhere near the same kind of hype and attention. It would also cheat fans out of the opportunity to see arguably the two biggest stars in basketball today square off with a championship at stake. It would be like replacing Magic-Bird in the '87 Finals with Isiah Thomas and Bill Laimbeer vs. Dale Ellis and Xavier McDaniel -- a completely acceptable matchup, but not what it could have been.
But still, there's plenty to like about a potential Thunder-Raptors championship series, and here are five reasons why you should follow my lead and root for it to happen:
It almost feels wrong to dismiss the Thunder as though they're some kind of meddling also-ran, especially when you consider some of the names on the roster. After all, Westbrook and Durant finished fourth and fifth in MVP voting, respectively, and are, without question, two of the most entertaining players the league has.
In Durant, OKC has a four-time scoring champ and the most recent MVP not named Curry, and in Westbrook, the Thunder have a perennial All-Star and the league's runaway leader in triple-doubles each of the past two seasons.There's very little not to like about that duo, and while some may need to better acquaint themselves with the Toronto roster, there's enough talent between the teams to make fans forget that Steph, LeBron and the rest of the Warriors and Cavs stars aren't on the floor.
Talk all you want about the atmosphere in Oakland or Cleveland, or Oklahoma City, but there's not a more charged-up fanbase in basketball right now than that of the Raptors. Toronto may be a hockey town at heart, but the Maple Leafs haven't appeared in a Stanley Cup final in nearly a half-century and have missed the playoffs 10 times in the last 11 seasons. The Blue Jays, meanwhile, haven't played in a World Series since their heyday in the early '90s -- before the Raptors even existed.
That is all to say that there is some real pent-up energy and frustration among the city's sports fans, and that has shown during the Raptors' latest run. Throughout the playoffs, fans have been showing up in droves both inside and outside the stadium, where thousands have flocked to watch games at "Jurassic Park," and there would be nothing better than to witness the scene if their team makes it to the NBA Finals.
Just so no one gets this twisted, know this: I like LeBron, a lot. There's no debating his world-class talent, and for someone with his level of global fame, he seems surprisingly relatable. I was happy when he got his rings in Miami, and I'd love to see him get one in his hometown, too. But if I'm being honest, I don't particularly mind the idea of watching a Finals without him in it.
In each of the past five seasons, the Eastern Conference champ has been the team that happened to have James. It's become so predictable that it's virtually a foregone conclusion. Put LeBron on any roster in the East, and that team -- even if it's the Sixers -- immediately becomes the favorite to win the conference. It speaks volumes of how special James is as a player and a leader.
But frankly, LeBron's dominance is getting a little rote for me, and for that reason alone, it would be refreshing to see someone else get a chance (to say nothing of the rage it would spark in LeBron going into next season).
The Raptors' arena security team may not recognize DeMar DeRozan, but his game is worthy of your attention. In fact, he may be the least appreciated star in the playoff field. This season, DeRozan earned his second career All-Star selection, and while Lowry's mercurial play gets more hype, it's DeRozan's steady hand over the past two weeks that has gotten Toronto to this point.
DeRozan was objectively awful during the Raptors' opening round series against the Pacers, but he seemingly flipped a switch midway through the Miami series and has been on a tear since, averaging 27 points on 48.1 percent shooting in his last seven games. A 6-7 shooting guard who rarely shoots 3s, DeRozan is a bit of an oddity in today's NBA, but he'll crush you both around the basket and from mid-range -- he led the NBA in two-point field goal attempts this season -- and it would be a treat to see him and Lowry try their hand against Durant and Westbrook with a championship on the line.
Finally, the NBA needs some new blood among the league's elite, and what better way to establish that than with a first-time champ? Yes, the Sonics won a title, but that came in 1979 -- long before Starbucks coffee was even available outside of Seattle. So while the Thunder franchise may technically have a championship, good luck finding anyone in Oklahoma City willing to claim it.
The Raptors, meanwhile, have never come close -- the one playoff series they did win prior to this year was in the days of five-game first rounds -- and it would be pretty cool to see them raise the Larry O'Brien Trophy before the team's 21st birthday. (Fortunately, the drinking age is 19 in Toronto, so there would be no issues with a celebratory champagne celebration.)
Sure, Cleveland is in the midst of its own well-publicized championship drought, and the Cavs have never won one either. But the fact is, they'll always be in the running so long as LeBron is in uniform -- they've had two Finals berths in the last decade -- and the same can't be said for Toronto. This is their shot, and might be the only one they get for a while, so we might as well get behind them before the Cavs and Warriors regain their rightful place in the NBA Finals next season.
You can follow Sam Gardner on Twitter or email him at samgardnerfox@gmail.com.