Bridgewater coming into his own with quiet confidence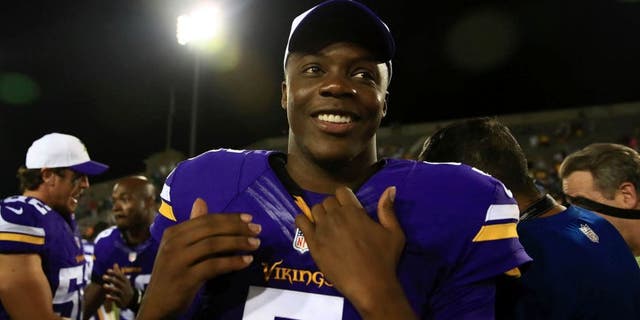 EDEN PRAIRIE, Minn. -- An easy smile, slender build and soft, self-effacing voice. They seem to bely Teddy Bridgewater's status with the Minnesota Vikings.
This rising star quarterback almost comes across as a choir boy.
Well, he is.
No, seriously.
"I just joined this year," Bridgewater said after a recent practice. "Mount Olive Primitive Baptist Church, in Miami."
That's the congregation Bridgewater was raised in and remains a member of. His grandfather and uncle both sing in the male chorus.
"So I was attending the service one Sunday and heard them singing and just told myself that I wanted to join the choir," Bridgewater said.
Carrying a tune has never been his specialty. His primary role at church as a youth was ushering.
"I stood on the back wall and protected the doors and everything," Bridgewater said.
Just about everywhere else, from the inner-city playgrounds of his native Miami to his college campus in Kentucky to his professional home in Minnesota, he's been in front.
"I just happened to be one of the most talented guys growing up," Bridgewater said, pausing to interject in case he suddenly sounded cocky: "I say that with the most humility."
Kids typically look up to the talented guy, after all.
"So I've always been in that position," he said. "It just came with leadership."
Bridgewater wouldn't be here if he didn't have the resolve to command a huddle. Pushover personalities don't work. He's so deferential in public speaking, though, that it can be easy to lose sight of his stature as an NFL starting quarterback.
Discussion of his progress always includes praise for the coaches. Several times during his rookie season, Bridgewater was asked by reporters about being the face of the franchise. His ready-made response was that the Vikings were just as much the team of Vlad Ducasse (backup guard), Jerick McKinnon (rookie running back) and Jabari Price (rookie cornerback). Bridgewater, as a junior at Louisville in 2013, was so uncomfortable with a Heisman Trophy campaign elevating him above his teammates that he asked the program to stop promoting him.
After earning a degree in sports administration in three years, the first member of his close-knit family to graduate from college, Bridgewater left the Cardinals early to declare for the draft. Shortly before the Vikings selected him with the last pick in the first round, Bridgewater gave his breast cancer survivor mother, Rose Murphy, a pink Cadillac Escalade with the help of the car manufacturer to fulfill a promise he once made to her.
"If you get Teddy mad, something's wrong with you," Vikings cornerback Xavier Rhodes said. "You need to go check yourself if you get him mad. I've never seen him fired-up or angry or mad or anything. He's always smiling."
Rhodes worked out with Bridgewater often this summer in their mutual hometown, Miami.
"We all know he had the poise. He can sit in the pocket and it's hard to rattle him, but his throws, the accuracy, he's gotten better," Rhodes said.
Bridgewater doesn't have a rocket arm, though the addition of Mike Wallace and the emergence of Charles Johnson ought to help the Vikings go deep more often. Concerns have surfaced about his accuracy, though he rebounded from an infamously shaky pro day workout at Louisville -- without his usual gloves -- to finish with the third-highest completion percentage by a rookie in NFL history at 64.4.
He won't be a dual-threat speedster running the read-option, but he exceeded the team's expectations with his mobility. His 6-foot-2, 215-pound frame could make him more vulnerable to injury, though he bulked up a bit over the winter to be better protected from big hits.
But his skill set is balanced. He has the mentality, approach and demeanor to succeed. Now he appears ready to come into his own.
"You can tell that this is more of his team as we continue to go," coach Mike Zimmer said. "He's a lot more vocal with the guys, as far as telling them where to go and what routes they should be running. He obviously has a better command of the offense as well."
Particularly now that Bridgewater has more than a full year in offensive coordinator Norv Turner's system.
"He just has that quiet confidence about him," quarterbacks coach Scott Turner said.
Bridgewater, who turns 23 in November, was thrust into the job three games into his rookie season at New Orleans after Matt Cassel got hurt. In as noisy an environment as there is in the league, he never appeared rattled.
"That showed me that this kid's got it, and he's going to be really good," tight end Kyle Rudolph said.
Bridgewater hasn't backed away from these high hopes. He's still the son of a single mom with that deep-seated humility and convictions of his Christian faith. But he's also that "talented guy" the rest of the Vikings will be looking to for leadership.
"I'll lead with conviction, lead from within," Bridgewater said, "and just be myself."