Brian Wilson confronts Giants CEO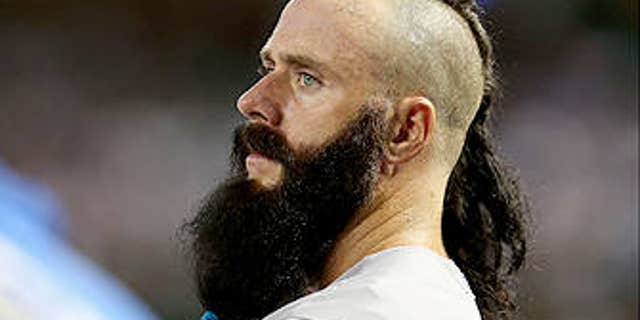 While the Los Angeles Dodgers have punched their ticket to the postseason, the Giants have been one of the most disappointing teams in baseball. But that doesn't mean their rivalry has simmered. Just ask Brian Wilson.
In a bizarre scene following the Giants' 3-2 win at AT&T Park on Thursday, the former Giants closer who is now on the Dodgers walked across the field and leaned over the fence separating the field from the crowd. From there, he appeared to get into an animated discussion with a man in a suit and others in attendance with him.
Your browser does not support iframes.
Apparently it was loud enough to get the attention of the Giants as they congratulated one another on the mound.
fansided.com
Turns out the man in the suit is Giants president & CEO Larry Baer. Henry Schulman, Giants beat writer for the San Francisco Chronicle, initially tweeted that Wilson was angered over the security in the area of the Dodgers bullpen. And when CSN Bay Area asked Wilson about the incident, all he would say was, "Just a conversation between me and him," but said that the issue was not bullpen security.
Soon thereafter, the Giants gave their side of the story.
According to the team, Wilson was angered by the fact that he has yet to receive his 2012 World Series ring. Wilson pitched in only two games in 2012 before undergoing Tommy John surgery in April.
According to The Splash, the Chronicle's Giants blog , Baer and team officials were stunned by Wilson's actions, claiming they have tried throughout the season to reach out to Wilson and set up some sort of ceremony, as they have done with other former players such as Melky Cabrera. The story said the team even invited Wilson to the official team ring ceremony in the season's first weekend homestand.
"I don't know why he decided to make a show of it and air his grievance tonight," team spokeswoman Staci Slaughter told the Chronicle.
The team said that after the confrontation, it gave up on trying to set up a meeting and simply sent the ring to the Dodgers clubhouse and asked it be given to Wilson.
"It's disappointing. It's unfortunate. It's bizarre, really," Slaughter told CSN Bay Area. "This organization really has tried to do the right thing and I don't know where this is coming from. It wasn't for a lack of effort on our part. Larry, Bobby, Bochy -- everybody has made an effort to reach out to him."
Wilson missed more than 16 months with the injury, returning to the majors with the Dodgers on Aug. 22. He is 2-1 with a 0.73 ERA and three holds in 12 1/3 innings pitched with the Dodgers, stating his case for a spot on the team's divisional series postseason roster.