Brian Stann breaks down the keys to victory for every main event this week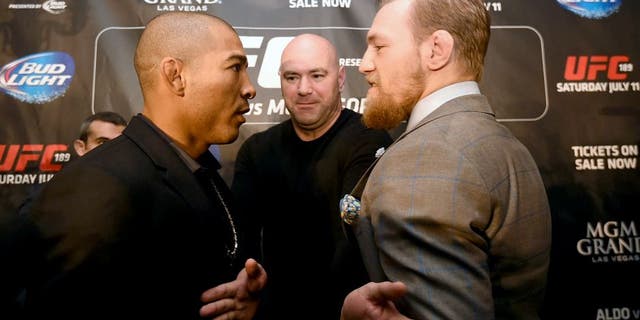 The fight week upcoming in Las Vegas featuring two title fights and a trio of events over three days might go down as one of the biggest string of days in the history of the UFC.
Featherweight champion Jose Aldo will cap off the weekend as he faces Conor McGregor in the main event at UFC 194 as the long time rivals finally look to settle their grudge in the Octagon while also crowning the undisputed king at 145-pounds.
Chris Weidman will also put his middleweight title up for grabs when he faces Luke Rockhold in one of the most highly anticipated championship bouts to ever take place at 185-pounds.
On Friday, former lightweight champion Frankie Edgar will look to secure his spot as the No. 1 contender at featherweight when he takes on Chad Mendes while one night earlier rising star Paige VanZant will face her toughest test to date when she draws No. 3 ranked strawweight Rose Namajunas in another main event fight.
There are so many factors at play in all these fights from the technical aspect of how each fighter will approach their particular main event bout to the mental preparation or mind games that could help to determine the final outcome.
FOX UFC analyst Brian Stann, who will be calling the fights on both Thursday and Friday broke down some of the key elements in the main event bouts for each night in the latest edition of Stann'd and Deliver.
PAIGE'S PROVING GROUND
Paige VanZant might be the next breakout star in the women's divisions but she still hasn't been tested against a legitimate top five threat until now.
This weekend VanZant will go up against former "Ultimate Fighter" finalist Rose Namajunas, who is fresh off a submission win over Angela Hill in October. Namajunas was the talk of the town after she tore through the reality show and submitted all of her opponents along the way. Unfortunately she came up short in her bid to win the title after losing to Carla Esparza a year ago, but now Namajunas has a chance to derail VanZant's hype train and get back into the championship picture as well.
"This is going to be the toughest fight of her career," Stann said about this fight for VanZant. "I think it's more difficult stylistically than her previous matchup. Rose stepping up, I wonder where Paige's confidence is?
"Now, it's not like Paige hasn't seen someone beat Rose before and she's seen Rose beat with her style of fighting, too. Get them down, grind them out, keep that heavy pace on top, smothering style and that's what Paige does but it's not boring. When she gets on top of you, she beats you up. That's going to be key for Paige."
While this main event fight is scheduled for 25-minutes, Stann believes the way this matchup will play out could largely depend on the first round and who is able to seize control early. Namajunas is a notoriously fast starter with lightning quick submissions that often times come from a million different angles.
Stann sees this first round as a mirror to what just happened at UFC 193 between Holly Holm and Ronda Rousey.
Holm was able to shake Rousey's confidence throughout the first five minutes they spent in the cage together and it took her less than a minute into the second to land the head kick knockout that won her the title. It's unclear if things will play out quite as dramatically in this one, but both fighters have a way to break the other if they stick to a set game plan and then execute it.
"The real question is round one," Stann said. "If Rose can stuff the early takedowns, if Rose can plant seeds of doubt in the mind of Paige VanZant, it's very similar to the psychological factor we saw play out with Holly Holm and Ronda Rousey. She couldn't get her down, she started to get hit and she panicked. That's the real key for Rose. She's very confident with her submissions off her back, but don't concede those takedowns because Paige is relentless on top."
STYLE COUNTS FOR SOMETHING
The main event on Friday night at "The Ultimate Fighter" Finale will pit Frankie Edgar against Chad Mendes in a matchup that may very well crown the next top contender at featherweight, but with the championship fight going down just 24-hours later, both competitors have something to prove in their battle.
Mendes has been a finishing machine in his most recent wins, but he's also suffered two losses to Jose Aldo and just recently fell to Conor McGregor by TKO at UFC 189. For Mendes to get back to the top of the mountain he needs to prove that he can face and defeat a former champion like Edgar while putting an exclamation point on his performance to impress matchmakers enough to believe he's worthy of another title shot.
Meanwhile, Edgar has already won four fight in a row and could arguably already be the No. 1 contender if not for McGregor's recent performances. Edgar is fired up and determined to earn another crack at the title and the way he fights Mendes could go a long way towards proving he's the man for the job.
"A lot is going to be said in this fight for style points," Stann said. "I think the UFC for who is going to get the winner of Aldo and McGregor, they are going to look for some style points. Because a year ago, the featherweight division was stacked. Since then we've seen Cub Swanson fall, we've seen Ricardo Lamas fall, we've seen Dennis Bermudez fall and so we've seen these guys be beaten and the last two standing are Edgar and Mendes. They have to be able to generate some excitement.
"Mendes has a leg up because of the fight with Conor McGregor because many people believe had he had a full training camp, the fight could have gone differently. He exposed some of the weaknesses of Conor McGregor. Then again if Conor McGregor doesn't win, he's in a tough spot. Will they do Aldo/Mendes 3? I think they will based on the performances those two guys put on in their last fight. It was the best fight I've ever called in my life to date."
Edgar might just be the toughest matchup in the entire division and he has a chance to show why when he faces another top flight fighter this weekend. Edgar has the kind of endurance to make almost anybody look bad over 25-minutes, but to earn a title shot with a win over Mendes, he needs to punish the former title contender and put a pace on him that's so blistering, there's no way he could keep up.
"For Frankie, he's a guy a lot of people in the division are scared of because he can beat you in so many different ways," Stann said. "He's just so efficient in everything he does. If he can't take you down, he'll out strike you. If he can't out strike you, he'll take you down. And if he can't out do you in either of those areas, he's going to out pace you. By the third round, he's going to out strike you and out grapple you. He's so consistent with not only his technique but his pace."
BEST MIDDLEWEIGHT TITLE FIGHT IN HISTORY
Anderson Silva ruled the middleweight division with an iron fist for seven year, but when he lost the title to Chris Weidman it was not only a change in champions but an overall shift in the perception of the weight class. Weidman was a new breed of fighter and there were plenty just like him coming along for the ride.
From Ronaldo 'Jacare' Souza to Yoel Romero, the middleweight division is deeper at the top now than it's ever been before, but the person shining the brightest these days is No. 1 contender Luke Rockhold.
Rockhold has won four fights in a row and he's finished all four opponents including wins over Michael Bisping and Lyoto Machida. Now Rockhold will try to keep that streak alive as he faces Weidman with the middleweight title on the line at UFC 194.
When it comes to pure talent, Stann says we've never seen anything like this in the middleweight division before and that's acknowledging that when the history books are written, Silva still may go down as one of the best fighters to ever grace the inside of the Octagon.
"These are the two best middleweights we've ever had in the UFC and that is with all due respect to Anderson Silva," Stann said. "I'm a huge fan of his and any time I've ever met that guy in person he's been nothing but class. In all honesty, Anderson was champion when I was still competing in this division and the middleweight division was nowhere near as competitive, athletic and dangerous as it is right now. This is by far the best it's ever been."
Stann says when it comes to magnitude and talent the middleweight division has never seen two fighters as good as Weidman and Rockhold and they are about to square off on Saturday night with the gold on the line.
"I believe this is the greatest middleweight title fight of all time," Stann said.
IT ALL COMES DOWN TO THIS
For seven consecutive fights, Jose Aldo has reigned supreme over the featherweight division, but many believe his toughest test will come this weekend as he faces Conor McGregor in the main event at UFC 194.
McGregor is actually sitting as a favorite according to the odds makers, but that won't change how Aldo is going to approach this fight because he's been champion for a long time and every person who has opposed him in the UFC has fallen just the same.
When breaking down this fight, Stann sees a couple of key elements in play for each man.
For Aldo, his best weapon to negate the size and power of McGregor is not allowing the Irish featherweight to use his distance to create angles and reach to frustrate the Brazilian. The closer Aldo can get to McGregor, the better it will be for the incumbent featherweight champion.
"The thing we can say about Jose Aldo is when he's fought guys that have made him fight, he's had his most impressive performances," Stann said. "That's the danger in what Conor McGregor is doing. If you've made him so mad that he wants to be aggressive with you, that could be a real problem. Because where we've seen Jose Aldo look beatable is when he sits back, takes his foot off the gas pedal, and tries to coast. He's happy to jab you and happy to kick you, not giving up too much energy and just playing a rhythmic game.
"If Conor goes out there and mocks him and trash talks him, it's going to force Aldo to close the distance and Conor's biggest ally in this fight is distance. If Jose Aldo gets in his face and gets close, people forget how fast he is and if he starts throwing combinations, it's devastating. If he lands two to three leg kicks, which Conor does leave out there, it could cause some major, major problems."
There is a counter to the leg kick, however, and McGregor would be wise to use it because that's given Aldo problems in the past to the point where he's actually shattered his foot when an opponent checks one of his best weapons.
Aldo has suffered a broken foot before and Stann believes McGregor's best chance to stop the featherweight champion dead in his track is to push his knee directly into the first kick that he throws and the results could be devastating.
"On the flipside, Jose kicks so hard that if you block them, he'll probably break his foot," Stann said. "We saw that in the fight with "The Korean Zombie" Chan Sung-Jung. He only threw one leg kick in that fight and he broke his foot. Only after he realized that 'The Korean Zombie' had a shoulder injury did he attack with his kicks and he did it with the other leg.
"If I'm Conor McGregor the first thing I do is stick that leg out there and bait him and then I just wait for it and lean in and as soon as he throws it, I put my knee right into his shin or into his foot. Because Jose kicks so hard, it's going to be a real problem."
Who will win in each of these main event bouts? There's only one way to find out.
The action all starts on Thursday with UFC Fight Night: Namajunas vs. VanZant followed up by "The Ultimate Fighter" Finale on Friday live on FS1 and then finally UFC 194: Aldo vs. McGregor goes down on Saturday night live on pay-per-view.