Brian Ortega lands beautiful triangle choke to put Diego Brandao away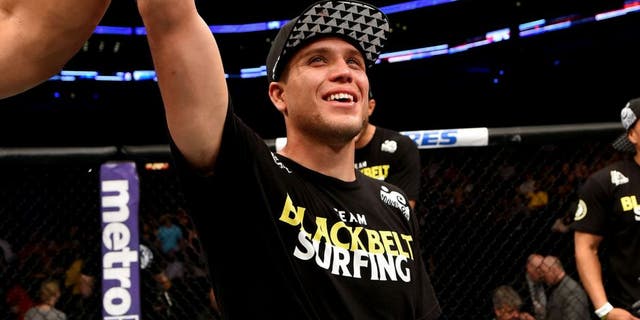 Brian Ortega put on a submission clinic to finally finish Diego Brandao with a triangle choke in the third round of a very exciting featherweight affair.
Ortega had to weather an early storm from the heavy-handed Brandao, but it was clear he had multiple paths to victory before finally using his considerable Brazilian jiu-jitsu game to get the win.
At the start of the fight, it was Brandao who showed tremendous aggression with a pair of takedowns on Ortega, although ultimately he let his opponent up on both occasions. Still, Brandao showed off his ground game early to match his huge power on the feet.
As the round continued on the feet, Ortega started to land better combinations with Brandao standing flat-footed in front of him as he began popping the Brazilian with long jabs and hard counter shots from the outside.
The fighters exchanged a series of strikes in the second round with Ortega continuing to use his reach while Brandao looked for counters this time around.
The third round saw the fight shift to much more ground action with Ortega attempting a takedown and Brandao reversing positions.
Ortega's active guard game from the bottom plagued Brandao and it forced the former "Ultimate Fighter" to stand up again.
A scramble on the feet resulted in Ortega rushing forward and looking for a D'arce choke before transitioning to a guillotine choke, which forced Brandao to roll to try to slip out of the hold.
The momentary relief for Brandao ended in a hurry when Ortega locked on a triangle choke as the fighters rolled on the ground, and it didn't take long for the submission to take hold. In that position, Brandao knew there was no escape and he was forced to tap out giving Ortega the victory.
Ortega has now picked up two wins in the UFC, both with impressive finishes as he becomes a top prospect to watch in the featherweight division in 2016.