Brian Matusz sank a hole-in-one from both sides of the ball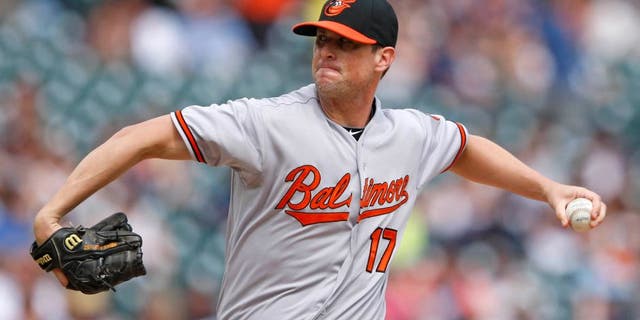 Switch-hitters are somewhat common in baseball, but what about switch-golfers? Apparently, they exist and Baltimore Orioles pitcher Brian Matusz is one of them. And as it turns out, he's pretty good.
In speaking with Rich Dubroff of CSN Baltimore, Matusz recently joined an elite club -- he's one of six golfers to ever record a hole-in-one both right and left-handed.
You read that right. Not only is Matusz a switch-golfer, he's also a better golfer than you on both sides of the ball.
The 29-year-old started out as a righty golfer because those were the clubs he had. His brother hit righty, so instead of his dad buying two sets, Matusz just adjusted. He got pretty good and about six years ago, he sank his first hole-in-one.
"I stroked it, I hit in. I couldn't see on the green. There were shadows. I couldn't see where it landed, and sure enough we went up there, the ball was in the hole," Matusz said. "We celebrated on the green and went nuts."
Many golfers would just hang their hat on being a good golfer, but Matusz is not like most golfers. He decided to try hitting lefty.
What he found was that it felt pretty natural (he's listed as a left-handed hitter) and just a few years after trying it out, he dropped a second hole-in-one.
"I was playing golf with my buddy Taylor, nailed it, crushed it, right at the hole and watched it bouncing straight into the hole," Matusz said.
Must be nice to be that athletic -- not only are you a big league pitcher, you can just start golfing lefty. Matusz knows, though, how rare that is.
"Most circumstances are like mine, guys that started playing golf right-handed and then switched over [to] left-handed later in life. In golf, it's just really rare to see anybody swing from both sides. It's not like baseball where there's an advantage doing one or the other," Matusz said.
Matusz owned a 2.94 ERA across 49 innings, striking out 56 in 2015. This upcoming season will be his last before hitting free agency, so if he has another season like the last, he'll be able to afford plenty of lefty and righty clubs.