Brian Kelly to Pete Carroll: Top coaches who could save the USC Trojans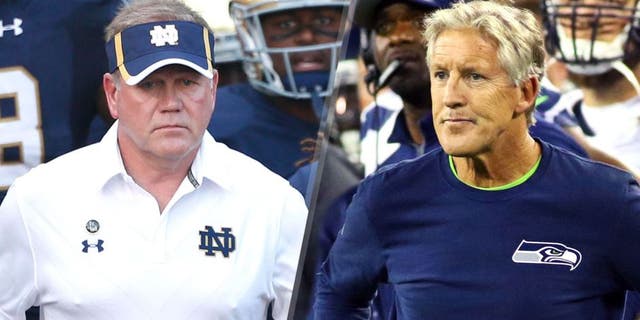 For the third time since 2010, USC is faced with trying to hire a new head football coach. The school botched the last two searches when it opted for Pete Carroll disciples Lane Kiffin and Steve Sarkisian, who was fired Monday after being placed on leave by AD Pat Haden, the man who hired him less than two years ago.
The first big question here is will Haden, under fire from some in the USC family, be the person pulling the trigger on the next hire?
USC is a curious place with great resources and as proud of its tradition as any football program in the country. So much so that it bends over backwards to lean to coaches who have been part of the Trojan family in the past. That's why you heard the name Jack Del Rio, the former star USC linebacker, and even Jeff Fisher, the former Trojan DB. Or why the school ended up with Kiffin and Sarkisian, former Trojan assistants.
The last time out Haden kicked the tires on Chris Petersen, but the low-key Boise State coach didn't seem like a great fit for the forward-facing Trojans. Instead, Petersen essentially fell in Washington's lap thanks to USC.
USC reached out to Kevin Sumlin last time, but the Texas A&M coach passed, opting to stay with the Aggies. Sumlin's team is undefeated and ranked No. 9 in the country. Would USC have any shot this time to pry him away from College Station? My hunch is no. His program just went through a massive facilities upgrade and his team is loaded with great young players in sophomores Kyle Allen (the QB) and Myles Garrett (defensive end) and freshman star Christian Kirk. I doubt Sumlin is leaving A&M for any other college job.
Stanford's David Shaw was on the radar the last time, but I don't see him leaving Palo Alto for USC now either.
Still, given how much USC has botched these last two hires, the school should swing for the fences this time. And that includes, perhaps, seeing if there's any interest from the coaches leading the Trojans' two biggest rivals -- Notre Dame's Brian Kelly and UCLA's Jim Mora. The Bruins are 3-0 against USC in Mora's time, but the Trojans have much better facilities and a more robust commitment to big-time football. Beyond that, Mora has dominated USC on the field, but still loses most head-to-head recruiting battles with the Trojans. I know his family loves living in Southern California and this way they wouldn't have to move. Would USC be able to get over hiring the Bruins head coach? Well, the guy does keep beating them.

Kelly has resurrected the Notre Dame program, and, in spite of a ridiculous amount of injuries, still has ND in the Top 15. He has recruited nationally and done very well in Southern California. Kelly has won big everywhere he's been and even got the Irish into the national title game three years ago. As big a job as ND is, there are still a bunch of headaches and hurdles you have to overcome in South Bend and six years at Notre Dame is a long time. Would he be tempted to look at USC?
Some may dismiss USC's ability to lure a big name like Mora or Kelly, but this is still a huge job with terrific facilities, a recruiting base that is about as great as there is, deep pockets and, better still, a commitment to compete in football that is at a different level than most programs.
Another hot name to keep in mind is Utah's Kyle Whittingham. His Utes are 5-0 and ranked No. 4. He also had a lot of ugly battles with his AD last winter and might be intrigued if USC called. Northwestern's Pat Fitzgerald is also off to a strong start and he's well regarded in coaching circles. He's had chances to leave Evanston before and it's probably a stretch that he'd be willing to leave the Midwest. Many USC folks like Fitzgerald but will his team even win enough in the second half of the season to stay on the Trojans' radar?
Here's a longshot: FSU's Jimbo Fisher is 63-11 as a head coach and won a national title. There's been some speculation that if the LSU job ever opened up that Fisher would have a hard time passing on it. How would he feel if USC called offering the 50-year-old a change of scenery?
Another longshot is first-year Houston head coach Tom Herman. A native Californian who helped Urban Meyer win a national title last year, his team has is 5-0 and No. 24 in the country. His stock is soaring. Herman can be choosey about his next move. He's very sharp and charismatic. USC would be a gem, but would the Trojans consider hiring a third young head coach in a row, especially a guy with only one season of head coaching experience? Herman's team probably needs to go undefeated to help his cause here.
The biggest wildcard of all isn't former Oregon coach Chip Kelly. As I wrote Sunday, I'm skeptical that the Eagles coach would be interested in leaving the NFL this offseason. Or would have any need to. It's actually Pete Carroll leaving the NFL in January for another run at USC. He's won his Super Bowl. Would he want to come home again? Yes, he led the program when it got in trouble with the NCAA, but many Trojans don't blame him for the sanctions. They saw it as an NCAA witch hunt.
I know it sounds crazy, but around USC you never know.
Bruce Feldman is a senior college football reporter and columnist for FOXSports.com and FS1. He is also a New York Times best-selling author. His new book, "The QB: The Making of Modern Quarterbacks," came out in October 2014. Follow him on Twitter @BruceFeldmanCFB and Facebook.