Brian Dawkins on Eagles: This city loves a good defense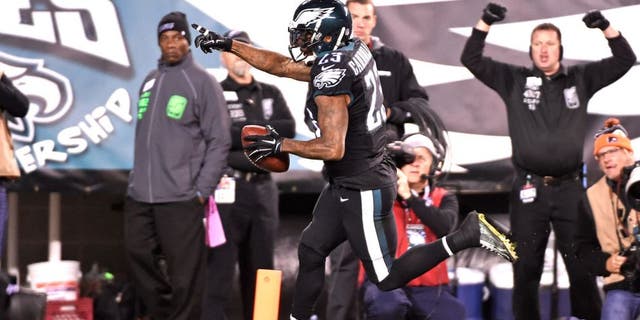 NEWYou can now listen to Fox News articles!
Eagles defensive back Nolan Carroll (23) intercepts an Eli Manning pass into the flat and takes it to the house for a touchdown. Eric Hartline USA TODAY Sports
The Philadelphia Eagles' defense has carried the offense through the first six games of the 2015 season, and according to former Eagle Brian Dawkins, you won't find any fan complaining about that.
"This city loves 10-7 games or 13-10 games, rather than 42-35 games," Dawkins told reporters after the game, per Mark Eckel of True Jersey. In other cities that's cool, but not this one.''
For a second straight game, the Eagles were dominant on the defensive end. In their 27-7 Week 6 win over the New York Giants they allowed just 247 yards of total offense -- 80 of those yards came on the Giants' first offensive possession.
The defense was led by their impressive front seven. The Eagles generated constant pressure with 3 sacks and 7 quarterback hits. They also generated three turnovers -- two interceptions and a forced fumble that they recovered. Led by nose tackle Bennie Logan, the run defense was once again stout -- the Giants totaled just 81 rushing yards on 23 attempts.
"That front line was just dominating," Dawkins said when asked about how the defense played in Week 6. "They're starting to figure out what they can do, who they can be. Any time you can stop the run with the guys up there, that allows the secondary to play back, that's what you want. You love that as a defensive back."
Dawkins believes that there is still room for improvement on the back end in the secondary. Having played the safety position, Dawkins understands how important it will be for the defensive backs to build continuity as the season progresses. The Eagles have two new starters in the secondary this season with cornerback Byron Maxwell and safety Walter Thurmond.
"It takes time. The defensive line has been together longer than the secondary has. So it takes time. The secondary still has to gel. You have Walter Thurmond going from a nickel corner to safety. He's done a nice job, but that's not an easy adjustment. It's not as easy as everyone thinks. You have two playmaking safeties now. But again it takes time.''
If the defensive line continues to play like it has in Weeks 5 and 6, it might not matter how long it takes the secondary to get accustomed to playing together.
MORE NEWS: Want stories delivered to you? Sign up for our NFL newsletters.