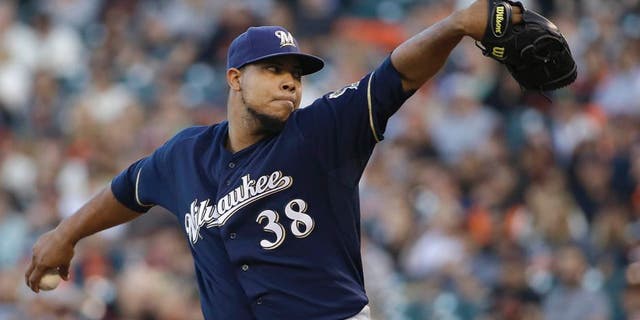 NEWYou can now listen to Fox News articles!
Wily Peralta says he's feeling fine, but the Milwaukee Brewers are skeptical.
Peralta will try to allay any concerns and seeks a measure of improvement in the finale of this three-game set with the Cincinnati Reds on Sunday.
Peralta (4-8, 4.55 ERA) leads Milwaukee with 32 wins over the past three years, but a major chunk of those victories came in 2014 when he had a career-high and team-leading 17. The right-hander also set personal bests with 198 2/3 innings and 154 strikeouts.
He's nowhere near those numbers in 2015, thanks in large part to a two-month stint on the disabled list because of a strained left oblique.
Peralta is 3-3 with a 5.52 ERA in six starts since returning, but his performances in the last two were worrisome for the Brewers (54-75). He's gone 1-1 while surrendering 10 runs in 7 2/3 innings with five walks.
His velocity was down while he turned in his shortest outing of the season Tuesday, allowing four runs -- two earned -- in 2 2/3 innings of an 11-6 loss at Cleveland.
"I've never had that (problem) before, but I don't really worry about it because I feel pretty good," Peralta told MLB's official website. "My arm doesn't feel tired. Sometimes it's mechanics. . . . Mechanically, I was a little off, and sometimes that takes off from your velocity. But overall, I feel good."
The Brewers think there may be an issue to work through.
"My thought process is that (it is) maybe, possibly, a dead arm," pitching coach Rick Kranitz said. "You've got to throw through it. If he's fine, he's fine. You just have to pitch. You have to go back out there and go, and he needs to go back out there and pitch and be who he is. That's throwing 94-97, 98. That's the guy he needs to be."
Peralta gave up six runs and two homers in seven innings of a 6-1 home loss to the Reds on April 20. He won both matchups last year while yielding one run over 15 innings.
Peralta has struggled with Joey Votto, who is 7 for 21 against him over the past three years -- including a two-run blast in April.
Votto's third and final hit Saturday was a go-ahead, two-run shot in the ninth which helped the Reds win 12-9 and end their five-game slide versus Milwaukee. He's a .362 hitter with 10 homers and 31 RBI in his last 34 games at Miller Park.
The Reds are turning to John Lamb (0-2, 6.06), who has completed six innings in just one of his three starts -- all Cincinnati losses.
The left-hander went six innings in his major league debut Aug. 14, allowing five runs with seven strikeouts in a 5-3 defeat to the Los Angeles Dodgers in his only road outing.
Lamb struggled with the Dodgers again in Tuesday's 5-1 loss. He labored through 108 pitches in five innings, giving up three runs with six strikeouts and three walks while also hitting a batter.
"Without a doubt I'd like to take the club deeper into the game," Lamb said. "It's definitely a learning experience. I can learn what pitches to throw, but then I have to execute them. I'm learning to continue to make pitches and apply the pressure.
"Walks have come back to bite me in the butt."