Brewers' Thames on pace for yet another MLB milestone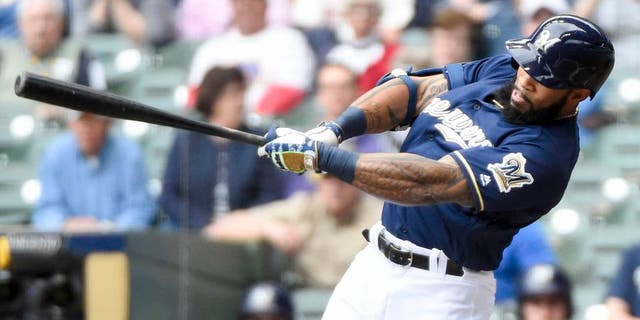 Eric Thames has gotten just a tad bit of attention since his return to Major League Baseball with the Milwaukee Brewers.
He's been breaking franchise records with his incredible April performance and in particular torturing the Cincinnati Reds.
Thames, as you might have heard, last played in the majors in 2012. His 11 home runs is already tied for third among for most HRs hit by a player who missed the previous four or more seasons.
| | | | |
| --- | --- | --- | --- |
| Player | Year | HR | Prev Yr |
| Orestes Destrade | 1993 | 20 | 1988 |
| Phil Weintraub | 1944 | 13 | 1938 |
| Olmedo Saenz | 1999 | 11 | 1994 |
| Eric Thames | 2017 | 11 | 2012 |
| Dusty Miller | 1895 | 10 | 1890 |
Like Thames, Destrade had played overseas before returning to the majors for the expansion Florida Marlins, although in his case it was in Japan, where he hit over 30 homers in four straight years. Weintraub was 36 when he was brought back to the majors due to the shortage of players during World War II. Both of those players appeared in just one more major-league season, a fate Thames will hope to avoid (he has a three-year contract, so a good chance of that).
Saenz had played in five games for the Chicago White Sox in 1993 but was then sent to the minors, only to re-emerge with Oakland (1999-2002) and the Los Angeles Dodgers (2004-07). Miller played in the American Association, which was a major league at the time, in 1889-90. He'd hit just 11 home runs combined over his final four seasons.
This is one more feat Thames could accomplish fairly easily as he is just 12 home runs away from tying Destrade.
Also, Thames is one off his career high in homers -- 12 as a rookie with Toronto in 2012. His 11 homers are the most by any Brewers player in the team's first 23 games of a season as well are his 27 runs.
Other notes:
-- Chase Anderson is one of three pitchers in Brewers history to have an ERA below 1.50 and at least 20 strikeouts in his first four games at 1.13 and 22). The others: Teddy Higuera (0.99, 21) in 1990 and Ben Sheets (0.96, 24) in 2008.
-- More on Anderson: He's gone at least five innings while allowing two or fewer earned runs in each of his starts. The last Brewers pitcher to do this for that long was Yovani Gallardo in 2014 (five starts).
-- Milwaukee leads the majors in most runs scored in innings 1-4 with 72. Tampa Bay is next with 62. The Cubs are No. 2 in the National League with 55.
Statistics courtesy STATS and baseball-reference.com