Brewers' Thames making up for lost time with HR streak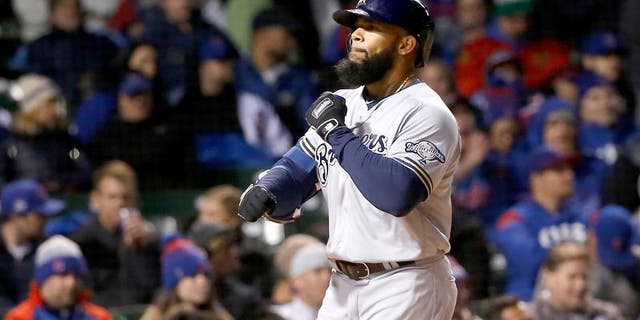 NEWYou can now listen to Fox News articles!
Milwaukee Brewers first baseman Eric Thames was one of the league's most intriguing signings this offseason.
Thames washed out of the majors in 2013, making a quick stop in the Venezuelan Winter League before surfacing again in the Korean Baseball Organization, becoming a bona fide South Korean celebrity over the course of three outstanding seasons with the NC Dinos.
The 30-year-old returned from Korea in December with two Gold Gloves, an MVP award and a magnificent beard, signing a three-year deal with the Brewers.
Now he's making up for lost time.
Nearly five years after making his last appearance in the majors Thames leads both leagues in home runs (7), slugging percentage (.921) and OPS (1.376) through 11 games, and has a hit in every game in which he has appeared.
But wait, there's more.
He tied a franchise record Monday night, homering in his fifth straight game with a solo shot off Chicago Cubs starter John Lackey in the third inning.
It's a record that has stood since 1997, when Jeromy Burnitz homered in back-to-back-to-back-to-back-to-back games against the Seattle Mariners and Anaheim Angels.
Thameshashit safely in his first 11 starts, tying a franchise record to begin aseason. Dickie Thon'sinitial 11 gamesin 1993is the only other time the feat has been reached in Brewers history.
The longest streak of consecutive games with at least one home run in major-league history is eight, done three times (Dale Long, Don Mattingly and Ken Griffey Jr.). Nineteen players have had streaks of six or more games in the regular season, with it being done just eight times in the National League (Barry Bonds did it twice). It was last accomplished in the NL (not counting Daniel Murphy in the 2015 playoffs) in 2006 by Houston's Morgan Ensberg. Baltimore's Chris Davis in 2012 was the last to do it in the American Leauge.
The Cubs have allowed 15 home runs -- fifth most in the National League -- in their first 13 games. Chicago has allowed nine homers in seven games at Wrigley Field.