Brewers pitcher Jimmy Nelson struck on head by line drive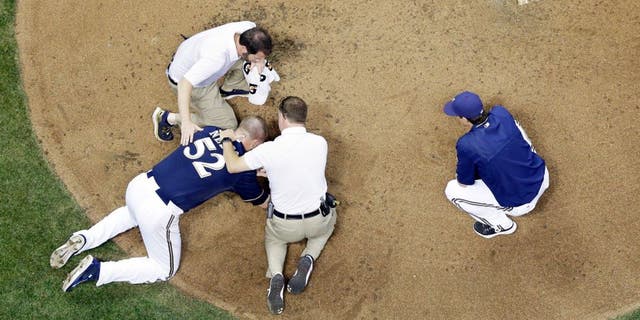 MILWAUKEE -- Brewers starter Jimmy Nelson was hit on the back of the head by a line drive off the bat of Tommy Pham in the third inning of Milwaukee's game against the St. Louis Cardinals on Thursday night.
The team said Nelson was lucid and was taken to an undisclosed hospital for a CT scan.
Tommy Pham hit an 89 mph slider that ricocheted off Nelson and down the left-field line.
Nelson fell to the ground face down and remained prone for about a minute after the ball struck him on the right side of the back of his head. Nelson then rose to his knees before standing on his own and walking off the field while Pham watched with a look of anguish.
Trainer Dan Wright accompanied Nelson to the clubhouse.
Nelson was removed from the game with the Cardinals leading 3-0 and was replaced by David Goforth.