Brewers' Braun moving back to left field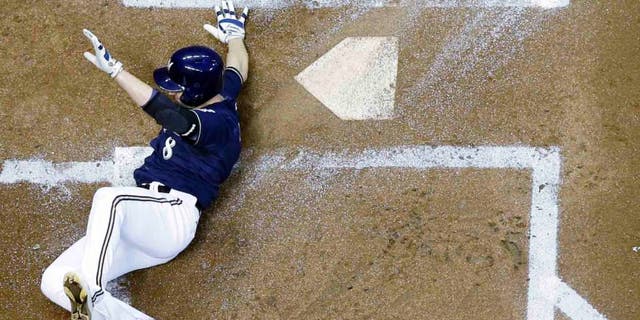 PHOENIX -- Milwaukee Brewers star Ryan Braun is on deck to shift back to left field.
Brewers manager Craig Counsell said Sunday that Braun will switch this spring from right field to his former position.
Braun spent two seasons in right field after moving over from left. The slugger was the NL Rookie of the Year in 2007 as a third baseman.
Counsell said the shift will benefit both the 2011 NL MVP and the team.
"We talked it over and discussed it, and I think with the players that we have on our roster this year, it's an advantageous decision for both Ryan and the players we have involved," Counsell said on the first day Milwaukee pitchers and catchers officially reported to camp.
Counsell said the Brewers are looking to make room for Domingo Santana, who played 38 games for Milwaukee last year after being acquired in July from Houston in the trade for Carlos Gomez.
"Domingo is going to get every chance" in right field, Counsell said.
Counsell said he wants to "put the players where they fit the best" and "both players are a factor when making this decision."
Braun, a six-time All-Star, Braun has played 817 games in his career in left field to just 264 games in right field.
"Ryan's obviously played left field a bunch, so we've had a conversation about it from time to time," Counsell said. "I think he's open to doing what's best."