Brett Favre was traded to the Green Bay Packers 25 years ago today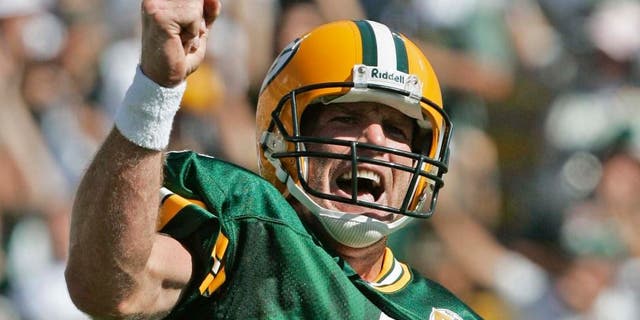 NEWYou can now listen to Fox News articles!
This has been a rough week for the Atlanta Falcons. On Sunday, they blew a 25-point lead in Super Bowl LI on against the New England Patriots. And that number, 25, surfaces again on Saturday.
Feb. 11, 1992 was the date the Falcons traded Brett Favre to the Green Bay Packers. Everyone knows how that worked out: 160 regular-season wins, a championship in Super Bowl XXXI, and three NFL MVPs.
The Falcons? They have been to two Super Bowls and still are looking for their first championship.
Advantage, Packers.
Favre had landed in Atlanta when the Falcons chose him with the No. 33 overall pick in the 1991 NFL Draft.
Then-Falcons coach Jerry Glanville was not enamored with the quarterback out of Southern Miss.
"I had to get him out of Atlanta. ... I could not sober him up," Glanville explained in a 2010 radio interview. "I sent him to a city where at 9:00 at night the only thing that's open is Chili Joe's. ... And that's what made Brett Favre make a comeback was going to a town that closed down. If I would have traded him to New York, nobody to this day would have known who Brett Favre ever was."
Ron Wolf had loved Favre's ability as an assistant to Jets GM Dick Steinberg. However, the Jets were unable to find a slot to draft the quarterback because they had forfeited their No. 1 pick after selecting Syracuse wideout in a supplemental draft.
Wolf then moved to Green Bay, where he sought to land Favre. He traded the No. 19 overall pick in the 1992 draft to Atlanta for Favre:
In mid-February of 1992, Wolf sent the second of two first-round draft picks to Atlanta in exchange for a quarterback who would soon supplant Don Majkowski as the starter -- and remain under center for the next 16 years.
"This was not done just to do it," Wolf explained at the time. "It was done with a lot of thought. To me the most important thing in professional football is having a person at that position. I think we've got a future here in this guy."
They had more than a future. They had a quarterback that would become synonymous with one of the storied franchise's in the league.
The Falcons, meanwhile, in a bit of irony used the pick they received to draft Tony Smith, a running back out of Southern Miss. Smith's NFL career consisted of 329 total yard rushing and two touchdowns, which would have a typical good passing game for Favre in his amazing career.