Brett Favre says Raiders QB Derek Carr is 'more polished' than he was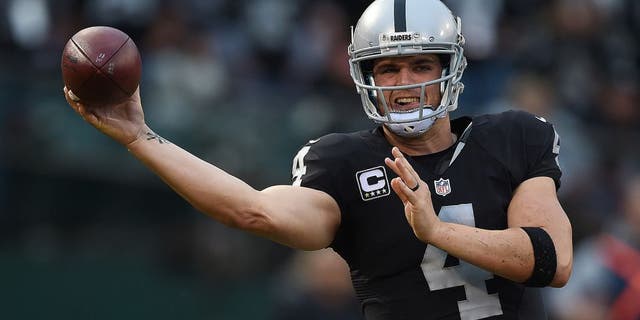 NEWYou can now listen to Fox News articles!
Oakland Raiders quarterback Derek Carr took his game to the next level in 2015, his second season in the league. He threw for 3,987 yards and 32 touchdowns, showing the ability to lead an NFL offense down the field with his arm. His sophomore season was lauded by many and even drew comparisons to Brett Favre.
That's the connection his receiver Michael Crabtree made, calling him a "gunslinger" like Favre was. That's obviously a bold statement to make, but at this point in his career, Carr has shown that he's not afraid to fling the ball around the field with the greatest of ease and confidence.
Favre responded to the comparison by complimenting Carr, saying he's more polished then he was.
"I don't know if I consider him a gunslinger," Favre said via CSN Bay Area. "I think he's a little more polished. And I mean that with all due respect. I think he's done a tremendous job in Oakland. I like the way he plays. I think he's a little more polished. I like to watch him. A good player."
Here's how Carr reacted to Favre's praise on Twitter.
Carr has a long way to go before he's seriously talked about in the same conversation as Favre, but the potential is there. And with the way the NFL has become a passing league where quarterbacks throw it 35 times a game, Carr could pile up big numbers fairly quickly.