Breakout game aside, one series showed Rams that Gurley was back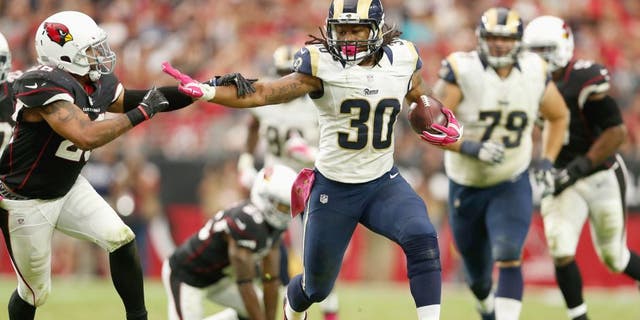 NEWYou can now listen to Fox News articles!
Todd Gurley is planning to practice this week without a brace on his surgically repaired knee.
Just another sign that the rookie feels fully recovered from the knee injury that ended his season at Georgia last November? Perhaps, but St. Louis Rams coach Jeff Fisher said that moment for him came during the third quarter of Sunday's 24-22 win at Arizona.
Playing in his second NFL game, Gurley knifed through the Cardinals for a 23-yard gain - his longest as a pro to that point - in the third quarter, but showed no inclination to head to the sideline. Instead, he toted the ball on the next three plays, setting up an 18-yard scoring pass to Stedman Bailey.
"I think what everyone expected, was after he broke the first long one where we had the celebration and the delay, that you expected to see (backup) Tre (Mason) go in and he said he was fine," Fisher said of Gurley. "He goes, 'No I'm going. I'm going to finish this drive.' That's a really good indication of where he is right now."
Gurley proceeded to break off three more big runs and amassed 144 of his 146 yards in the second half, including 106 in the fourth quarter alone.
"He's done all of the extra things. He's that complete back," Fisher said. "That's the reason we drafted him, because we knew he was like that. All of the information we got out of the University of Georgia was all true. This is the kind of young man that he is. He's a real pro."
MORE NEWS: Want stories delivered to you? Sign up for our NFL newsletters.