Break the rules for Williams sisters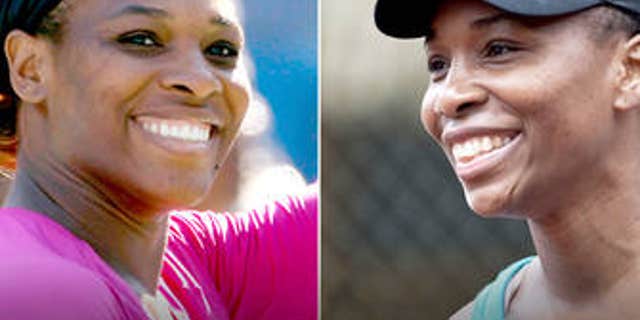 Serena Williams traveled through Frankfurt all the way to Kiev and then to Kharkiv so she could play in the Ukraine this past weekend in a consolation match for a team she doesn't care about on a surface that doesn't suit her in an event she has spent years avoiding. She also had a sore ankle.
It's the same team Venus Williams traveled to Germany with last year, the U.S. Fed Cup team, saying she was available to play even though she had no intention of playing, and was too hurt to play, anyway.
There is a game being played here. Not tennis, but politics. The U.S. Tennis Association and the Williams sisters are attempting to manipulate rules and find loopholes so the faces of the sport over the past decade can play in the Olympics.
Neither Venus nor Serena has met the requirements to be eligible for the London Olympics this summer, and neither can meet them before the games. The rules and requirements were set long ago by the International Tennis Federation, and the sisters were the ones who did not follow them. So there is a real possibility that neither will be allowed to play.
But both want to. Even if it means that other players who have followed the rules are left out, the ITF should allow the Williams sisters to represent the U.S. in the Olympics. It could lead to lawsuits and ugliness, as it did in 2000, when Serena was picked over No. 1 doubles player Lisa Raymond.
But the USTA should pick Venus and Serena anyway, and the ITF should approve. They have meant too much to the sport. Besides, they're still the best American players.
"The big push for me is the Olympics this year, so I can get back on the court and get my ranking up,'' Venus Williams said. She is attempting to come back after being diagnosed last year with an autoimmune disease.
"If I'm healthy, I'm not worried about my ranking,'' she said. "I think I can hit the ball. It's just about my body cooperating.''
Players get an automatic invitation into the Olympics if they are ranked in the top 56 in the world, though no more than four singles players can come from one country. Serena is ranked No. 9 and Venus No. 70.
But the rules also require players to have competed in or made themselves eligible for, two Fed Cup competitions in two different calendar years between Olympics. It's a strange requirement, as both the Fed Cup and the men's Davis Cup are only minimally important to the sport.
So why is it an Olympic requirement? The rule is wholly self-serving to the ITF, which owns the Fed Cup and Davis Cup. The ITF made the rules to help itself.
"The ITF would never announce in the middle of an Olympic cycle that a player who has not received two nominations (played twice for Fed Cup) has met the entry criteria,'' ITF spokesperson Nick Imison said in an email.
He said the USTA can attempt to put the Williams sisters on the U.S. team and explain why they belong, but that the ITF "reserves the right to determine their eligibility.''
Serena hasn't played Fed Cup since 2007. Before that, she played in 2003. She says she planned to play in 2011 to become eligible for the Olympics, but she missed out while suffering from blood clots and a foot injury for which she has given various and conflicting explanations. Venus also didn't play the first two years and then was out hurt, and also sick, last year. Both have already played this year.
And it's a safe bet that the only reason Serena was off to the Ukraine was to play nice with the ITF in hopes that it will approve her for the Olympics. The ITF also has six wild cards it can give to anyone.
But this is a dilemma for the ITF: Keep out the Williams sisters and hurt their Olympic events, or let them in and send the message to future players that they don't really have to play Fed Cup or Davis Cup.
They are likely to choose the first one, breaking their own rules in the process. The Williams sisters are too big.
Meanwhile, the USTA and the Williams sisters have looked for loopholes.
For one, the rules don't actually say a player has to "play'' in two years, but instead that she has to make herself "available.'' The point is that if you are the country's, say, fifth-best player and want to play but aren't chosen, then that shouldn't be held against you.
The Williams sisters have both said several times the past few years that they were making themselves available -- using those specific words -- and then pulling out, claiming injury.
Serena's injuries are oftentimes hard to believe. Before the Fed Cup final in 2009, she confirmed on a Tuesday that she would play. Three days later, on Friday, she pulled out, saying she was fatigued. Problem was, she was still in the middle of a tournament at the time. And two days after withdrawing from Fed Cup over fatigue, she won her tournament.
It has been a running source of frustration for the USTA. In his book, the USTA's Patrick McEnroe, now director of player development, wrote that he doubted Serena ever intended to play in 2009 and was only trying to make nice with the ITF while it was deciding on a punishment for her profanity-laced threats at a U.S. Open line judge. When the punishment was handed down, she withdrew from Fed Cup.
In January, at a Fed Cup loser's bracket tie against Belarus, Williams finally played. I asked her if she was given reason to believe that that would be enough to get into the Olympics.
"I don't know,'' she said. "I'm just here to play this one, as many as I can. I wanted to play last year, but that was impossible.
"I got incredibly sick. The year before, I ended up having surgery. Actually, more than that. So yeah, it just didn't work out in the past.''
Venus' path to the Olympics is more problematic than Serena's.
She passed up multiple chances to play in 2009 and in 2010 before getting hurt, then sick. And, nearly 32, she has to climb the rankings, while still lacking energy from her disease, Sjogren's syndrome. She told me she might never feel normal again.
"It's about being able to play matches in a row,'' she said. "Right now, I'm not sure how much I can do with that, but we'll see.''
Meanwhile, Serena is doing what she can, no matter how late it is. She said her trip to the Ukraine, which she detailed to The New York Times, was her craziest trip ever. She did lead the U.S. to victory and vowed to play again next year.
Nobody is going to fall for that one. But it's a nice way to kiss up to the ITF.
It shouldn't matter, anyway. The Olympics are not around to give lifetime achievement awards to stars. But the Williams sisters are past and still present.
Just let them play.