Brazilian soccer great Pele made a song for the Rio Olympics and it's ... something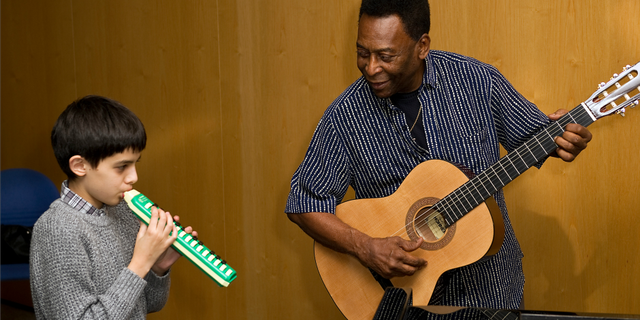 NEWYou can now listen to Fox News articles!
What do living legends do as they creep up in age? They take up a hobby. And when that hobby starts to get boring? They find a new one!
Just ask Pele, who after running out of ways to remind people that he's still the best footballer who's ever lived, is now turning his attention to another passion of his: music.
With his country getting set to host the Summer Olympics, the 75-year-old Brazilian great decided to compose and record an unofficial anthem for the Rio Games. Pitbull isn't on the track, so you know it's unofficial.*
The song is called "Esperanca" ("Hope"), heavily features a children's choir and according to Pele drew its inspiration from "the feeling of hope and happiness" around the Rio games. You know, like the feeling of hope and happiness Brazil had two years ago when it hosted the World Cup before -- well, never mind.
This isn't Pele's first foray into the recording industry. In 2006, Pele actually released an entire album. It's called "Pele Ginga" and has 12 tracks. Never heard of it? There's probably a good reason for that. It had to be pretty underwhelming, seeing as there's not even any mention of it on his Wikipedia page.
Anyway, if you feel so inclined, listen to a preview of Pele's latest attempt to crack the Billboard Hot 100 here.
*I'm aware Katy Perry is singing the official Rio anthem, but you and I both know what Pitbull is capable of. I still half-expect him to crash the stage during the opening ceremonies.
MORE FROM FOX SOCCER: