Braves lose seventh in a row and Simmons in 4-2 decision to Seattle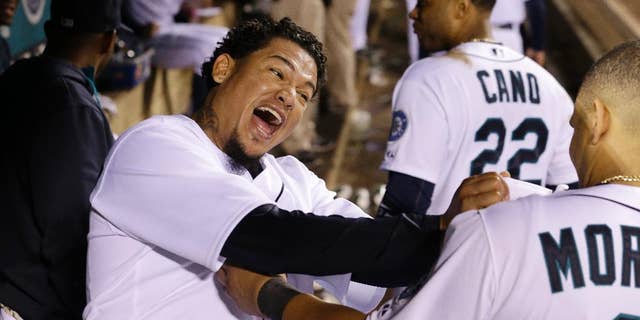 NEWYou can now listen to Fox News articles!
SEATTLE – When a team is struggling, even sure-handed players make mistakes.
The Atlanta Braves dropped their seventh straight with a 4-2 loss to the Seattle Mariners on Tuesday night.
Second baseman Tommy La Stella dropped a routine pop up in the fourth inning and it was the deciding factor in the game. With the score tie at 1-all, two outs and runners on second and third, Chris Taylor popped up behind the first-base bag. La Stella, who had made just one error all season, camped under it, leaned back and it caromed off his glove for an error.
The two runners scored easily and Taylor advanced to second. He came home on Austin Jackson's RBI single.
"Got to make that play," La Stella said. "I let the team down in a big situation, obviously. You don't want that but unfortunately you can't pick and choose where you make errors."
Braves manager Fredi Gonzalez said, "it's just a physical error and you can't do anything about it. And it did cost us those three runs that scored. Sometimes it's just the way stuff's going."
The other stuff that was going was provided by Mariners starter Felix Hernandez (12-3). He went eight innings, allowed one run, struck out eight and walked one in the victory.
It was his 15th straight start - dating back to May 18 - in which he worked at least seven innings and allowed two runs or fewer, an on-going big-league record. He also tied Gaylord Perry's 1974 streak with Cleveland when he won 15 straight starts with at least seven innings and allowing two or fewer earned runs.
"When you got that lead, he smelled blood in the water," said Braves catcher Gerald Laird. "The good ones know how to pitch with the lead. He just kept pounding the zone with strikes, wasn't falling behind. Once he got the lead, it was strike one, strike two, putting us in the hole."
Gonzalez said catching a break is what his team needs at this point.
"It's funny because I was talking to (Mariners manager Lloyd McClendon) in the batting cages and he was saying the same thing," Gonzalez said. "I guess they just had a road trip in Baltimore and they couldn't get any breaks and so they got a break today. His team got the three runs. You know maybe (Wednesday) we'll catch a break and get us rolling again."
Third baseman Kyle Seager said once the opportunity knocked for the Mariners, they pounced.
"That's what you're supposed to do. When you get an opportunity you take advantage of it," Seager said. "We were to get two runs on that one. Then Jackson got a big hit. Four runs with Felix going, that's a good combination."
Alex Wood (7-9) worked six innings, allowing five hits, just one earned run, walked four and stuck out five.
"I thought he (Wood) pitched terrific," Gonzalez said. "Getting a couple runs against Felix and you just can't recover."
HAWK TALK
Braves manager Fredi Gonzalez, OF Justin Upton and 3B Chris Johnson were among eight Braves personnel who visited the Seahawks training camp during Monday's off day. "I got to spend time with Coach (Pete) Carroll a little bit. That was really cool," Gonzalez said. "We talked a little philosophy afterward. It's a different shaped ball but you're still leading men, still managing people." QB Russell Wilson, who signed a minor-league deal with the Texas Rangers this year, also spent time talking with Upton and Johnson.
KING'S FULL COURT
Whenever Hernandez pitches at Safeco Field, yellow-shirted fans fill the third-base-side lower desk, flashing 'K' signs and chanting when the batter has two strikes. A huge turkey leg, arriving on a silver platter, also is passed around to be consumed by the subjects. Six sections were filled Tuesday, most ever in the lower bowl. The MLB Network filmed the experience to show for a future show.
TRAINER'S ROOM
Mariners: OF Michael Saunders (strained left oblique) was expected to go through the full array of drills to determined his fitness. He has been on the DL since July 11. "My hope is that Michael will be able to go out on (rehab) Thursday," Manager Lloyd McClendon said.
Braves: SS Andrelton Simmons had to leave the game with one out in the fourth innings when he sprained his left ankle covered the third-base bag. Ramiro Pena replaced him. Simmons will be reevaluated Wednesday.