Braves keep stockpiling veterans, sign Bartolo Colon to 1-year deal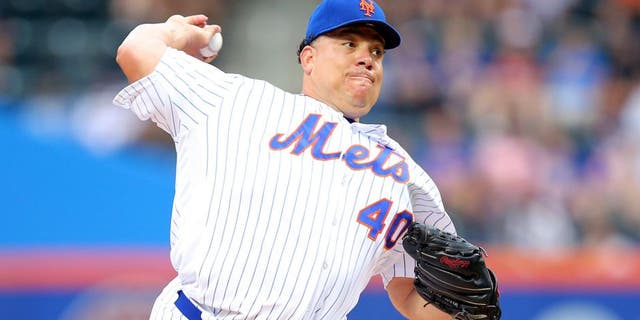 The Atlanta Braves' apparent solution for its young rotation: Sign the two oldest pitchers in baseball. A day after signing 42-year-old knuckleballer R.A. Dickey, the franchise netted 43-year-old Bartolo Colon one-year contact, pending a physical.
The deal is worth $12.5 million, according to FOX Sports' MLB insider Ken Rosenthal, his highest salary since the 2007 season.
Colon spent the past three seasons with Atlanta's National League East rival, the New York Mets, posting a 3.90 ERA in 588 2/3 innings pitched. He struck out 415 batters and walked just 86 over that span. In 2016, his age-43 season, Colon helped round out New York's dominant staff by posting a 2.9 WAR over 33 starts -- a mark that would have ranked second among Braves pitchers behind only Julio Teheran.
The Braves are paying approximately $20 million for two veterans to eat up 2017 innings without blocking their up-and-coming young arms. Over the past three seasons -- spanning Colon's time in New York -- the Dickey and Colon ranked 17th and 19th league-wide, respectively, in innings pitched. For a franchise which taxed its bullpen more than all but four teams last season, they can be useful if they can hover anywhere near their three-year averages.
Colon has been on the Braves' radar for some time. The team contacted Colon around last year's winter meetings while exploring rotation options after the Shelby Miller trade.
The question for the franchise moving forward this offseason: Will they still aim to make a big pitching splash on the trade market, or have two pitchers with 33 years of MLB experience met their needs?