Brantley homers with 4 RBIs as Indians top Brewers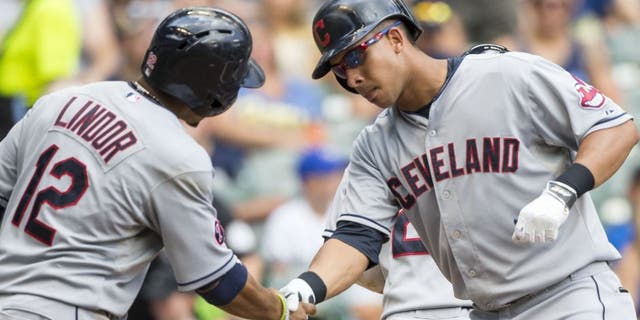 MILWAUKEE (AP) -- Michael Brantley homered, doubled and drove in four runs, and Cleveland closer Cody Allen withstood a rocky ninth to help the Indians hold on for a 7-5 win over the Milwaukee Brewers on Wednesday.
Allen entered the game with a three-run lead. But a string of 5 1-3 scoreless innings for the bullpen ended with Adam Lind's RBI double with one out in the ninth. A single for Aramis Ramirez put runners on first and third before Khris Davis hit into a game-ending double play started by third baseman Giovanny Urshela.
Allen pumped his fist on the mound after picking up his 20th save. Austin Adams (1-0) threw 1 1-3 innings of scoreless relief.
Cleveland snapped an eight-game losing streak dating to 2001 in the interleague series with the Brewers.
Struggling Milwaukee starter Kyle Lohse (5-11) allowed 10 hits and five runs in five innings.
Brantley hit a three-run shot in the third to tie the game at 4, then delivered an RBI single in the fifth to give the Indians the lead for good.
The bullpen backed Brantley's big day at the plate, limiting the Brewers until the ninth.
The Brewers had other chances against the bullpen.
With Cleveland leading by two, Bryan Shaw allowed Scooter Gennett to reach on an infield single to lead off the eighth before getting Ryan Braun to fly out and Gerardo Parra to bounce into an inning-ending double play.
It was in stark contrast to the early innings for the Brewers, who got to Cleveland starter Cody Anderson for 10 hits and four runs in 2 2-3 innings. It was the worst game in five major league starts for the rookie, who saw his ERA rise from 0.89 to 1.91.
Lind hit his 16th homer, a two-run shot, to help build a 3-1 lead in the first for Milwaukee.
But the top of the Indians' order got to Lohse. Jason Kipnis, Francisco Lindor and Brantley combined to go 6 of 8 with a walk over the first five innings.
Lohse's era rose to 6.29, and he has allowed 23 homers, second-most in the NL.