Brandon Marshall is campaigning for the Jets to keep Fitzpatrick with stuffed animals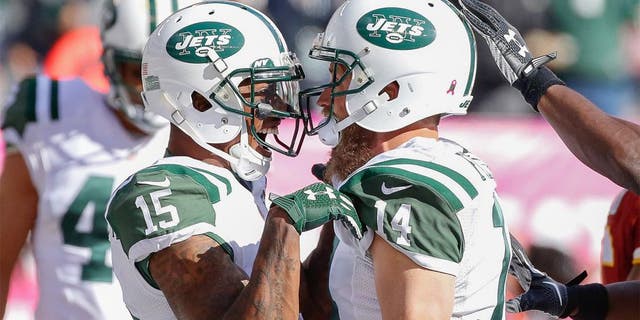 Prior to 2015, Ryan Fitzpatrick and Brandon Marshall had never played together. They were a pair of veterans joining a New York Jets team that finished the 2014 season at 4-12 and looked doomed for another disappointing season with Geno Smith at the helm.
Fitzpatrick and Marshall prevented that from happening, putting together two of the best seasons at their respective positions in franchise history. Their chemistry was off the charts, as well.
On the field, they looked like a couple of friends having a great time playing pickup football -- in a good way of course. Off the field, they joked with each other, particularly with the media.
Due to Fitzpatrick's expiring contract, 2015 could have been their one and only season together. On Monday, NFL Network's Ian Rapoport reported that Fitzpatrick is expected to hit free agency with the two sides "far apart" on extension negotiations.
Marshall took to Instagram to campaign for the Jets to keep the Harvard grad ... using stuffed animals.
Do you think he wants Fitzmagic back in green next season? That seems like a pretty safe assumption. That's easier said than done for the Jets, though.
With recent contracts being handed out to Sam Bradford and Joe Flacco, and with Kirk Cousins signing the franchise tag in Washington, Fitzpatrick could be set for a hefty pay day. Quarterbacks aren't easy to come by in the NFL, and a team like Houston would likely be open to bringing back Fitzpatrick if the Jets don't pay up for him.
This is an interesting situation to watch with free agency set to kick off on Wednesday.