Brandon Marshall beats Brent Grimes for 58 yards on Jets' first play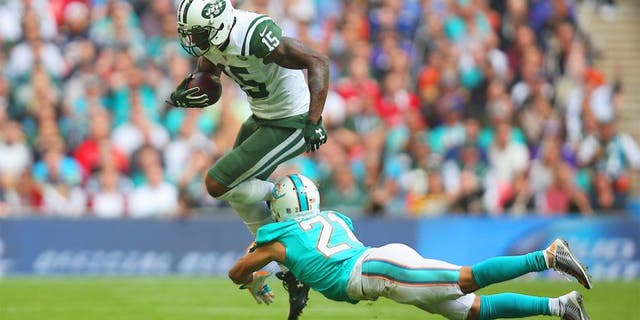 NEWYou can now listen to Fox News articles!
The Miami Dolphins were hoping to get off to a great start on defense agains the New York Jets on Sunday, but that didn't happen. Rather than pound the ball with Chris Ivory to open the game, the Jets decided to take a shot deep on their first offensive play.
With three minutes gone in the first quarter, Ryan Fitzpatrick stepped up and heaved it deep for Brandon Marshall, who was being covered by Brent Grimes. Grimes, who usually plays on the left side, followed Marshall to the right side and was beat immediately.
The play went for 58 yards as Marshall was able to make the catch with Grimes all over him. It was actually good coverage by Grimes, but Marshall made a great play on the ball. The play set up a 3-yard touchdown run by Ivory, putting the Jets up 7-0 early on.
MORE NEWS: Want stories delivered to you? Sign up for our NFL newsletters.