Brady needs frustration to pass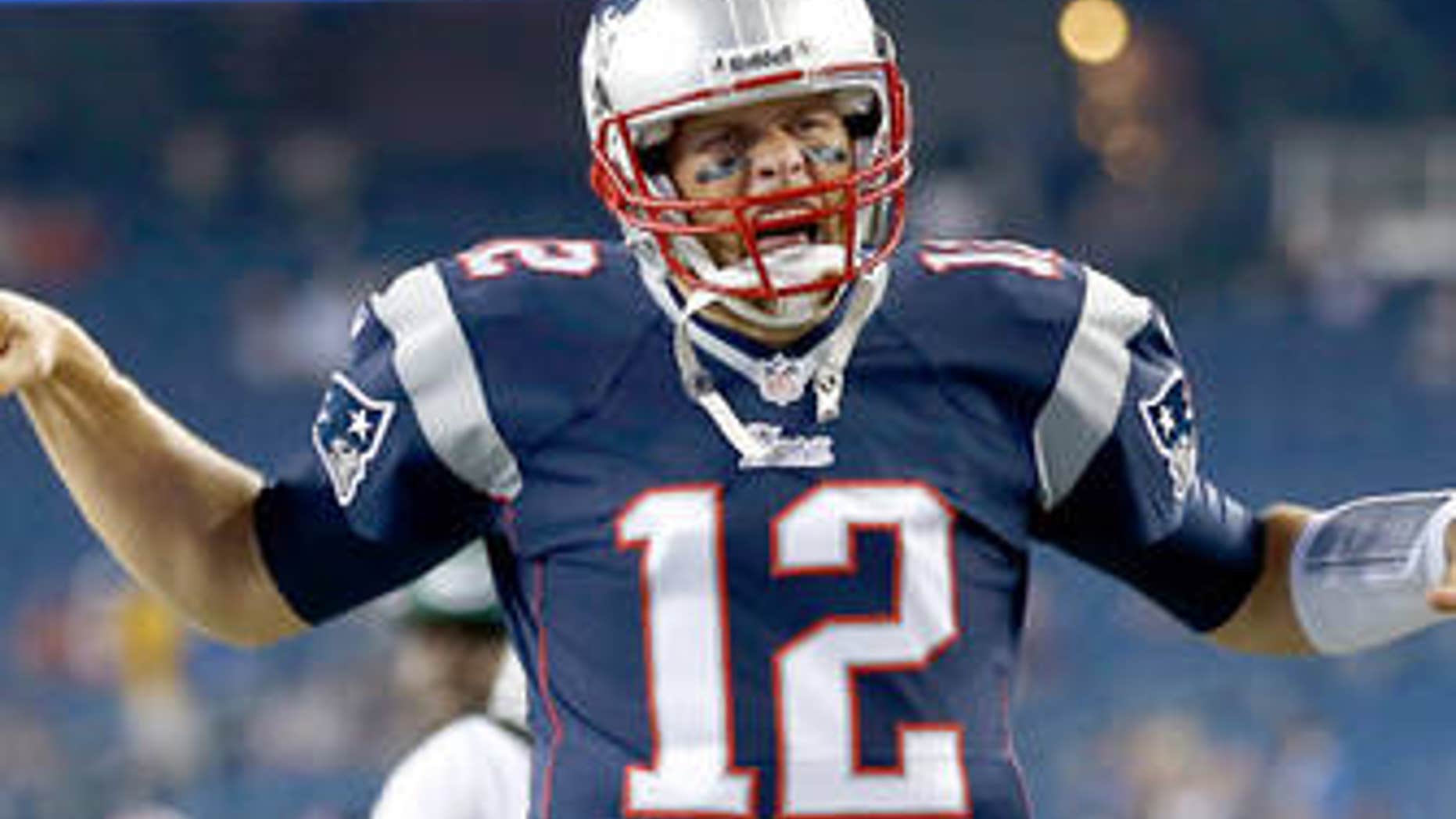 The midweek NFL injury report came out Wednesday, and as usual New England did not list the most obvious item.
Name: Tom Brady. Position: Quarterback. Injury: Tongue. Game Status: Probable.
The Patriots' offense is a mess. As he has done throughout his career, Brady bit his tongue when asked why. By now it must be hanging together by a couple of taste buds.
"I just want us to score points," Brady said pleasantly at his press conference.
That's been a bit of a problem so far. New England averaged a league-leading 34.8 points last season. Then its top five receivers were either released, injured, left un-signed or charged with murder.
Despite that, Bill Belichick's overall plan is on track. The Patriots are 4-1 heading into Sunday's FOX Game of the Week against New Orleans. They are also averaging 19.0 points a game and coming off one of the all-time Brady era stinkers.
The 13-6 loss to Cincinnati was so bad people are starting to question Brady's mortality. He has seven touchdown passes this season, barely five quarters work these days for Peyton Manning. Last week was the first time in 53 games that Brady didn't throw a touchdown pass.
Part of it was the monsoon conditions and part of it was Brady. But an excessive amount was his supporting cast of rookies and retreads.
So what else is new?
On the list of all-time quarterbacks, Brady has always had to do the most with the least.
Joe Montana had Jerry Rice and John Taylor. Terry Bradshaw had Lynn Swann and John Stallworth. Dan Marino had Mark Duper and Mark Clayton.
Brett Favre had Sterling Sharpe, Antonio Freeman and Donald Driver. John Elway had the Three Amigos, Shannon Sharpe, Rod Smith and Steve Watson. Even Gladys Knight had the Pips.
Brady had Jabar Gaffney.
It hasn't always been that dire, but for every Wes Welker there have been four Reche Caldwells. The Dog-and-Pony-and-Ochocinco Show was finally enough to make Brady scream last month. He also clutched his helmet, flailed his arms and stewed on the bench.
It all happened during New England's clunking 13-10 win over the Jets in Week 2. Unlike his tongue, Brady could not bite his entire body. But he quickly vowed to make its language comport to Brady family standards. If we're ever going to enjoy a good venting, it will have to come from wife Gisele Bundchen.
"My husband cannot throw the (bleeping) ball and catch the ball at the same," she famously said after the 2011 Super Bowl.
Her husband's current take is standard-issue Brady.
"You let your emotions get into it and feelings and so forth," he said. "But realistically, you have to come up with a plan."
New England's master plan hasn't changed this century. It's based on the coaching, the system, an occasional spy, and plugging in pieces around its master quarterback.
When Brady had receivers like Welker and Randy Moss in 2007, the Patriots rewrote offensive history and almost went unbeaten. When the Patriots relied on flotsam and jetsam, they knew Brady would raise everyone's game enough to get by.
There have been blips, though none approaching the current dysfunction. That's what happens when players who accounted for 85 percent of your offense last year are no longer around.
To be fair, nobody knew Aaron Hernandez would be exposed as an alleged homicidal maniac. But everyone knew Rob Gronkowski's serial surgeries would make him a football flight risk.
New England let Welker go to Denver for a modest $6 million a year. Danny Woodhead bolted to San Diego for $3.5 million over two years. Brandon Lloyd and his 74 catches were released.
The plan was to plug in holdover Julian Edelman, free agent Danny Amendola and rookies Aaron Dobson and Kenbrell Thompkins. None will ever be confused for Stanley Morgan.
When Brady goes home at night he must ask his football-analyst wife if the Patriots covet money more than wins. In February, he signed a contract extension that's way below market value ($57 million for four years) in order to give owner Robert Kraft more cap space to sign talent.
Sure, Bundchen made $42 million last year, so they can still fly Business Class to their private island. But the Patriots are almost $10 million under the salary cap. There's principle involved.
It doesn't help that Welker went to catch passes from Manning. Various sources said Brady was "beyond enraged" and "feels like he's been pierced in the heart" when New England failed to re-sign his favorite receiver. Except for the body-language tantrum in Week 2, Brady has remained a good soldier.
"You have to focus on what your job is," he said, "and try to do it the best you can regardless of who's out there."
Who's been out there has dropped 17 passes this season, including six against the Bengals. None, Gisele would note, were by her husband.
He is No. 1 in her heart but No. 22 on the NFL quarterback charts with an 80.5 rating. That's three behind Geno Smith, who is not married to a supermodel.
At 36, Brady is easing past his prime. His accuracy and reads haven't had their usual crispness. But a 26-year-old Tom couldn't make up for all that ails New England right now.
The offensive line is getting shoved around. Receivers aren't running precise routes. Gronk is a medical mystery.
He's supposed to make his 2013 debut Sunday, so at least Brady may no longer have to try hitting tackle Nate Solder in the red zone. That was one of last week's pratfalls, where the Patriots converted one of 12 third downs.
It's an ugly scene in Foxboro, though not all that shocking. The Patriots have lost 10 regular-season games in the past four years. Nine of them came in the first half of the season. Belichick figures injuries will subside, the new guys will figure things out and Brady will do the rest.
That's the plan. That's always the plan.
It's amazing the Master hasn't bitten his tongue clean off.