Bradley rewards brave brothers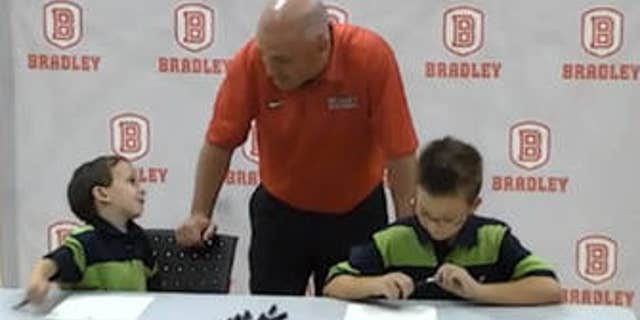 The Bradley basketball program signed 3-foot-4 inch guard Johnah Sahrs of Dunlap Grade School and his 4-foot-5 inch brother, Jarrett, to national letters of intent, the school announced, Friday.
Johnah, 5, suffers from a life threatening brain condition known as Neuroblastoma. Jarrett, 9, is the big brother that helps keep spirits up.
The brothers signed their letters of intent at a ceremony, and were introduced as members of the Bradley basketball program in an otherwise standard press release.
"A 3-foot-4-inch guard, Johnah Sahrs will wear uniform number 1," the release reads. "He becomes both the youngest and the shortest player in Bradley Basketball history. Standing 4-foot-5-inches, Jarret Sahrs will wear uniform number 32. Senior guard Mason Alwan, sophomore guard Anthony Fields, senior center Jordan Prosser and freshman guard Jordan Swopshire gave the Sahrs brothers a tour of the Renaissance Coliseum facilities prior to the signing ceremony and will serve as their primary team mentors throughout the season."
The Sahrs and Bradley got connected through an organization called Team Impact , which aims to provide team-based support networks to kids with serious illnesses.
Johnah has a Facebook page set up by his parents, Timothy Sahrs and Kelly Belinger-Sahrs, which frequently posts updates on his condition.
From this morning:
"Johnah woke up and asked "Can I go to Bradley today?" Sorry, buddy. Not today. I think someone loves being a Bradley Brave!!!!!