Brad Marchand says there's 'no question' that NHL players would accept gay teammate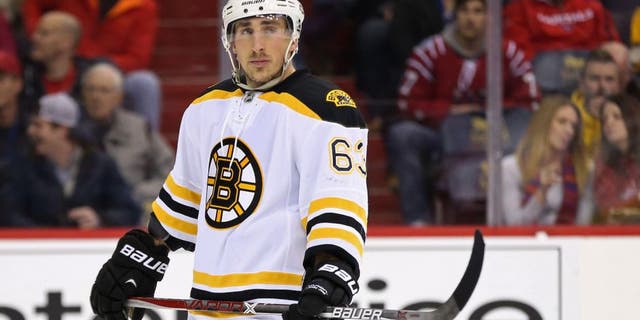 NEWYou can now listen to Fox News articles!
Towards the beginning of his NHL career, Brad Marchand quickly developed a reputation as being a nuisance on the ice. He established himself as an effective pest and agitator, but also was labeled as "dirty" after a few controversial hits and incidents.
While those aspects of his game haven't completely been eradicated, in the past few years the Bruins winger has become more recognized for his elite two-way skill. He has developed into a leader for the Boston club and, this past fall, won the World Cup of Hockey while playing on Canada's top line alongside Sidney Crosby.
Marchand, 28, credits that growth to being older and more mature, saying his "priorities have changed" over the years. But it's not just his on-ice play that has become more admirable.
Recently, Marchand has become somewhat of a champion for people in the LGBT community. In December, the winger was attacked on a Twitter with a homophobic slur. In a since-deleted tweet, Marchand responded to the hate by publicly shaming the person who sent the vitriolic remarks his way, saying "this derogatory statement is offensive to so many people around the world, [you're] the kind of kid parents are ashamed of." The response prompted the user to delete his account.
Marchand was applauded for standing up for the gay community and taking a proactive approach to silencing the hate, and ESPN's Joe McDonald recently spoke to Marchand about the exchange.
"I want to stand up for what I believe in, and I don't think it's right when people say things or bash people because of their sexual orientation," said Marchand, via ESPN. "I have friends who are in gay relationships, and I don't think it's right for people to be against that. Everyone is allowed to find love whatever way that is, so I felt like that was a time to say something, especially nowadays. We're in 2017, and things are a lot different than they were 100 years ago. We're all evolving to be equal, and that's the way things should be."
When asked whether or not an openly gay player would be accepted in an NHL locker room, Marchand delivered a strong vote of confidence in favor of equality.
"Guys would accept that, no question," Marchand assured. "We're a team in the [dressing] room and a family. It doesn't matter what different beliefs guys have, or where they come from, or whatever the case may be. Guys would accept it. Again, in the room we're a family. That's the way it is on a hockey team, and that's the way it will always be."
There has yet to be an openly gay player in the league, though Marchand says it's "bound to happen at some point, and when it does, it will be accepted." The NHL has had a large number of players endorse the You Can Play campaign, which is dedicated to eradicating homophobia from sports, so it certainly appears that Marchand isn't the only star who feels this way.