Brad Keselowski stands up to testy fan after accidentally dropping American flag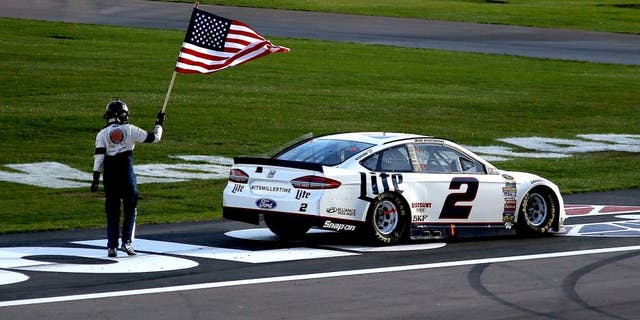 Thanks to unusually heavy winds on Sunday at Las Vegas Motor Speedway, Brad Keselowski had an oops moment immediately after winning the Kobalt 400 when he accidentally dropped the American flag on the ground while holding it out of his window.

Not surprisingly, Keselowski immediately stopped his No. 2 car, got out and picked up the flag before continuing his post-race victory celebration.
At least one testy NASCAR fan didn't think the Team Penske driver did enough to atone for his mistake, however.
The fan, who later deleted his tweet criticizing Keselowski, insisted that the 2012 Sprint Cup champion should have apologized after the race for dropping "the greatest symbol of this nation on the ground."
The fan then added, "Shame on you!!!!"
Later on Sunday night, Keselowski responded by defending his handling of the situation.