Brad Keselowski Racing drivers collide, leading to vicious hit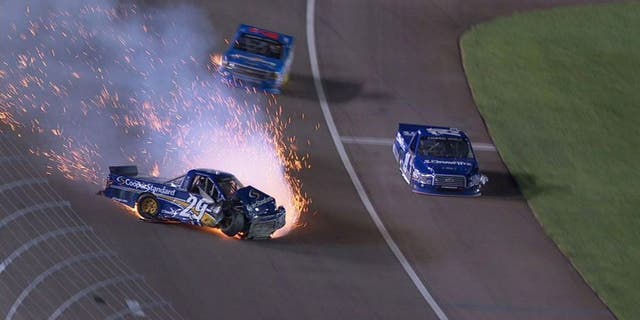 NEWYou can now listen to Fox News articles!
Saturday night's Camping World Truck Series race at Las Vegas Motor Speedway couldn't have gotten off to a more frightening start.
With just 14 of 146 laps in the books, championship contender Tyler Reddick lost control of his Brad Keselowski Racing Ford in Turn 4, hitting the wall and coming back down the track into the path of teammate Austin Theriault.
Unable to avoid Theriault's oncoming truck, Reddick clipped the part-time Truck Series driver in the right rear, sending Theriault's No. 29 BKR vehicle sailing up the track and head-on into the outside wall -- in an area not covered by SAFER barrier.
Theriault, a 21-year-old driver from Fort Kent, Maine, climbed from his vehicle under his own power and was seen communicating with safety personnel before being moved via stretcher into an ambulance and then transported to a local hospital via helicopter.
Theriault was still awake and alert upon arriving at the hospital for observation.

FOXSports.com will continue to monitor this developing story.