Brad Keselowski on Cloud 9 over Valentine's 'gift' from baby girl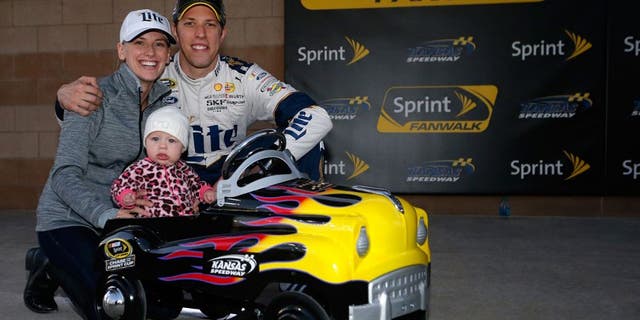 No matter what happens on Valentine's Day next year, the year after that, or the rest of his life, Brad Keselowski is going to be hard-pressed to top Valentine's 2016.
The Team Penske driver and 2012 Sprint Cup Series champion received an unexpected surprise when his 9-month-old daughter, Scarlett, called him by his name -- as in "dada" -- for the first time.
Two days later, Keselowski was still on Cloud 9 on about his baby girl's newest refrain.
"It is pretty amazing" a beaming Keselowski told a scrum of inquisitive reporters on NASCAR Media Day at Daytona International Speedway. "She said, 'dada', on Valentine's Day, on Sunday. She looked over and just started saying, 'dada.' It really made my day. It was really cool."
So besides "dada," what else is in young Scarlett's expanding vocabulary?
"She says, 'hey,' in the morning, but there is an argument we are having as to whether it is a real word or not," Keselowski said, referring to his girlfriend, Paige White. "She just wakes up in the morning and looks at you and says, 'hey', and that could mean anything."

For now, at least, "dada" is good enough for this proud papa.