Brad Keselowski leads the most laps at Darlington, but finishes second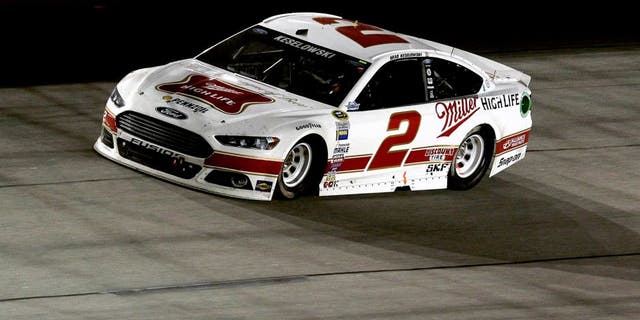 For much of Sunday's Bojangles' Southern 500 at Darlington Raceway it appeared few had anything for pole sitter Brad Keselowski.
The Team Penske driver led the opening 62 laps of the race and would dominate much of the night by leading the way six times for a total of 196 laps.
However, when the final caution flew on Lap 356 of 367 Keselowski brought the leaders to pit road for the last time of the night. While the pit crew led by crew chief Paul Wolfe was able to get their driver in and out of the stall quickly, Darian Grubb's Joe Gibbs Racing pit crew put Carl Edwards in the lead by a narrow margin.
When the race restarted with two laps to go, Edwards was able to get the advantage as Keselowski was forced to hold off Denny Hamlin and Penske teammate Joey Logano.
So in the end, despite leading the most laps, Keselowski crossed the line second behind Edwards, his fourth runner-up finish of the season.
"Long race. Long night," said Keselowski. "At least we led a lot of laps, which is something to be very appreciative of, and obviously started on the pole, and that was great. Just seemed like one of those races that just kept cycling with yellows and pit stops and yellows and pit stops. I don't know how many yellows there were but I don't know if I ever drove a Sprint Cup race with this many yellows before."
Part of a tight battle for the win, the 2012 Sprint Cup Series champion admitted he needed to be a bit better all around in order to best Edwards for the victory.
"I needed to be a little bit better everywhere," he said. "Needed to be better on the restarts and a little better probably because I brushed the wall a little bit there. I just needed to be a little bit better everywhere to have a shot at the win."