Boy who bonded with World Series hero Jon Lester learns he's cancer free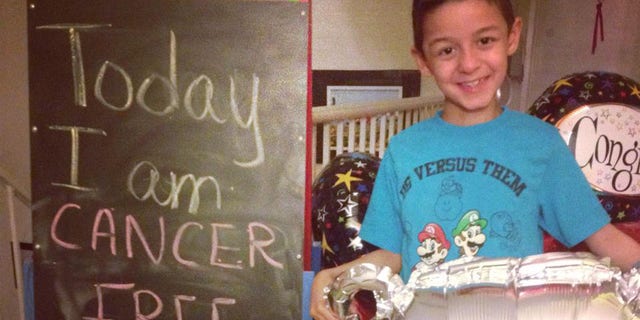 NEWYou can now listen to Fox News articles!
Maybe another team of angels was at work.
A 6-year-old Los Angeles Angels fan whose battle with cancer inspired World Series hero Jon Lester just learned the aggressive treatment his doctors threw at the illness has given him extra innings.
Zein Youssef, who formed an emotional bond with the Red Sox ace, who is himself a cancer survivor, got the news from his doctors at Children's Hospital of Los Angeles. His ecstatic parents put the word out via Zein's Facebook page, where nearly 10,000 followers have kept tabs on his health.
"My son, my hero, my LIFE.... He did it!!!!" wrote Zein's father, Tamer Youssef. "We might not be out of the water yet.... But today we are CANCER FREE!"
Late last year, doctors prescribed an aggressive treatment regimen that included stem cell therapy, bone marrow transplants and gruelling chemotherapy sessions. Around the time Lester was helping his team win the World Series against St. Louis, Zein's situation had taken a grim turn. The brave little boy was on the lefthander's mind as he took to the mound, and even Fox broadcasters Joe Buck, Tim McCarver and Ken Rosenthal saluted the hurler for his work on behalf of the Pediatric Cancer Research Foundation and showed the picture that Lester had tweeted out several days before.
Lester, who is in Fort Myers, Fla., for spring training, was thrilled at the news, tweeting out "Just got the best news, my buddy Zein is cancer-free!"
The pair first met last August, before the Red Sox took the field against the Los Angeles Dodgers. Lester met Zein as part of his effort to comfort and inspire young patients and their families before games all over the country as part of Pediatric Cancer Research Foundation's /NVRQT (NEVER QUIT) program.
Zein asked Lester if cancer was "hard," and Lester told the truth.
"Yes, it is hard," he said. "But at the end, it is all worth it."
The two cancer fighters shook hands and took a picture. Zein gave Lester a wristband and Zein signed Lester's glove. It was the glove that Lester carried with him the rest of the season – all the way to the Red Sox' World Series win. After that short meeting, Lester told friends and Fox News that the meeting with Zein had a profound impact on him.
Don Fair is coordinating producer for Fox News Channel, Los Angeles.