Boston Red Sox star Mookie Betts praised for feeding homeless after World Series win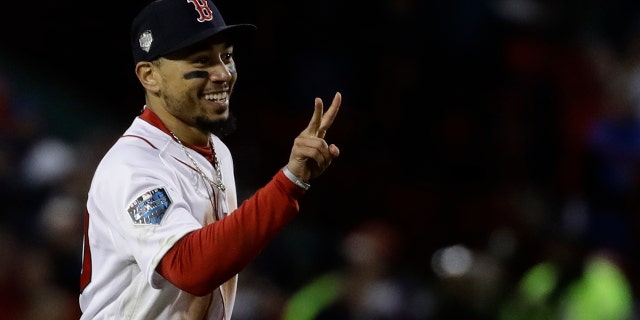 Boston Red Sox star Mookie Betts has not only proven his heroics on the field, but off the field, too.
After the team's World Series Game 2 win to take a 2-0 lead over the Los Angeles Dodgers on Wednesday, Betts provided food for some homeless people who were sitting outside as temperatures dipped into the 40s in Boston.
Former Red Sox infielder and current radio host Lou Merloni posted about the act on Twitter after he was tipped off about Betts giving out food to the homeless in front of the Boston Library.
"Trays and trays of food fed the homeless," Merloni wrote on Twitter. "The man that delivered the food wasn't looking for attention or praise BUT deserves it. God Bless you Mookie Betts."
It wasn't the first time Betts has made a similar gesture. In 2015, he told NESN that he and catcher Blake Swihart gave pizza to a homeless man in New York City.
"Me and Blake, yesterday, we got to eat, and had [a piece of pizza] left and he said the night before, he had given it to a homeless guy and he hit two home runs," he said at the time. "So, I had a pizza. So, I gave it to a homeless guy and hit two home runs, so maybe, pass it on to the next person."
The perennial American League MVP candidate will try to give Boston a three-game lead over Los Angeles on Friday. First pitch is set for 8:09 p.m. ET.