Boston Red Sox Pounce On Tampa Bay Rays To Take ALDS Opener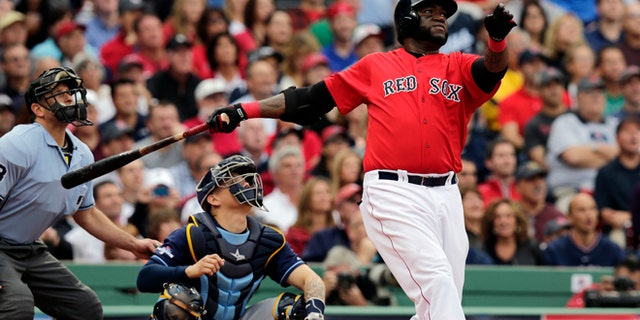 Boston – The Tampa Bay Rays will turn to David Price again — not with their season on the line, but with something getting pretty close to that.
Price pitched the Rays into the playoffs with a complete-game victory over the Texas Rangers in the wild-card tiebreaker on Monday. Now he will start Game 2 of the AL division series against the Boston Red Sox on Saturday as the Rays try to avoid falling into an 0-2 hole in the best-of-five series.
"I feel like I've won some big games to stop losing streaks or something like that, but nothing to the magnitude of Game 163. That was very special for me," he said on Friday.
"Pitching against the Red Sox, or pitching against a team like the Yankees, you know the history behind those franchises. You know what they're capable of doing. ... You start feeling butterflies probably a day earlier than what you normally would. Pitching in this ballpark, pitching against that team it makes you want it just a little bit more."
John Lackey starts for the AL East champions, who took advantage of Tampa Bay's bad luck and bad defense to overcome an early deficit and beat the Rays 12-2 in Game 1 on Friday. The Red Sox batted around in consecutive innings, including a five-run fourth inning in which everything seemed to go wrong for Tampa Bay.
One ball fell between two outfielders. Another took a bad hop off the Green Monster standings. One batter reached safely on a dropped third strike and another when the pitcher was slow to cover first.
"You play 162 games, a lot of innings, a lot of pitches, a lot of runs. One thing you can guarantee in the playoffs is you're going to see something you haven't seen all year," said Jonny Gomes, who doubled to tie the game and then scored from second on an infield single to give Boston the lead for good. "And we saw that right away."
Needing a 163rd game to earn a wild-card berth, the Rays won three win-or-go-home games in three different cities to reach this series. But the good pitching and good defense — they had the second-best fielding percentage in the majors this season — abandoned them in the fourth.
"We've been playing very well. We've not been making any mistakes. We made a bunch tonight," manager Joe Maddon said. "But I've also learned one other thing regarding baseball: 24 hours can make a huge difference. That's just one game, baby. That's just one. We'll be back tomorrow, I promise you. We'll be ready to play. We will not be affected mentally by tonight's game."
Jon Lester allowed three hits in 7 2-3 innings for the Red Sox, giving up solo homers to Sean Rodriguez and Ben Zobrist to spot the Rays a 2-0 lead through the top of the fourth. Tampa Bay starter Matt Moore had still not given up a hit.
But Dustin Pedroia led off the bottom half with a single up the middle, and then David Ortiz hit a high fly ball that center fielder Desmond Jennings and right fielder Wil Myers converged on. The Rays' rookie raised his right hand to call off Jennings but let it fall behind him and bounce off the warning track and into the bullpen for a double.
"I was under the ball and I saw Des out of the corner of my eye and backed off," Myers said. "I messed it up, and it won't happen again. ... That play kind of gave them a spark, and a good team takes advantage of it."
With a derisive cheer of "Myers" echoing through the ballpark, Mike Napoli popped up to second base for the first out before Gomes hit a fly ball that scraped the left-field wall on the way down. Pedroia held to tag up, then scored easily with Ortiz coming in just a few steps behind him to make it 2-2.
Jarrod Saltalamacchia struck out before Stephen Drew hit a slow hopper to first that James Loney fielded and flicked to Moore. But the pitcher's foot came down a split second after Drew's; with Moore facing the wrong way, Gomes never slowed down as he rounded third and scored without a throw.
Will Middlebrooks followed with a line drive to left that took a bad hop off the Monster where the AL East standings are posted, and it got past Rodriguez on the rebound. That allowed Drew to score and make it 4-2, while Middlebrooks went into second with a double.
Jacoby Ellsbury reached on a passed ball on strike three — which would have been the third out of the inning — and Middlebrooks moved to third, where he scored on Shane Victorino's single to make it 5-2.
None of the misplays was scored an error.
"That Myers play obviously gave us some momentum," Victorino said. "All those kind of things and it became a snowball effect. Plays like that happen. You've got to thrive and you've got to get as many runs as you can when a mistake like that is made."
Victorino had three hits and Saltalamacchia had three RBIs for the Red Sox, who tied for the best record in baseball this season a year after finishing last in the AL East. Every Boston starter got a hit and scored a run, the first time a team had done that in the postseason since Lou Gehrig, Joe DiMaggio and the Yankees in the 1936 World Series.
"No longer it's the best team, it's the hottest team," Gomes said. "And we obviously know Tampa is coming in hot, coming in on a roll. So it took a couple of innings to break the ice, but once Petey got that hit up the middle, I think that took a lot of questions out."
The clubs got to the ballpark for the series opener to find the tarp on the field, but the rain let up a few hours before game time and made way for a pregame ceremony to honor the victims and first-responders of the Boston Marathon bombings. With a giant "B Strong" logo mowed into the center field grass, the families of the late Krystle Campbell and Sean Collier took the field, followed by marathon volunteers, doctors and nurses, police officers and others who helped out after the April 15 explosions that killed three and wounded at least 260 more.
Campbell was one of three people killed in the bombings. Collier was a MIT police officer shot during the manhunt for the bombers.
Players, managers and coaches from both teams lined up on the first- and third-base lines and applauded throughout the ceremony. A giant U.S. flag was draped over the Green Monster for the national anthem, and Cowboy-hatted good Samaritan Carlos Arredondo joined former New England Patriot Joe Andruzzi to shout the traditional "Play Ball!"
"Maybe our place in this market, this city, is we take those things to heart," Red Sox manager John Farrell said. "And in some ways this game and what we do here at Fenway is a vehicle to acknowledge others."
Follow us on twitter.com/foxnewslatino
Like us at facebook.com/foxnewslatino