Boston Red Sox at Tampa Bay Rays game preview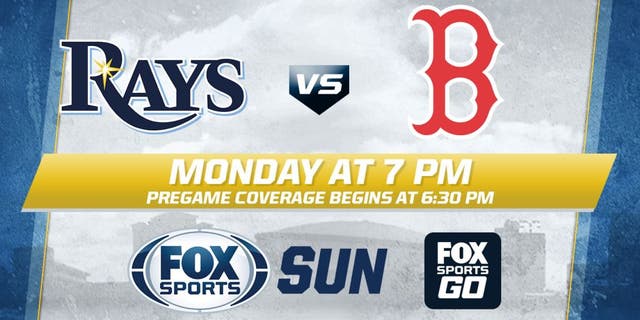 TV: FOX Sports Sun
Time: Pregame coverage begins at 6:30 p.m.
CAN'T GET TO A TV? WATCH IT LIVE ON FOX SPORTS GO
Boston Red Sox pitcher David Price will return to his old stomping grounds at Tropicana Field on Monday for the start of a four-game series between the Red Sox and the Tampa Bay Rays.
Price (11-8, 4.19 ERA) will open the series against Rays lefty Blake Snell (4-5, 3.06). Price is 2-3 with a 5.11 ERA against the team that drafted him first overall in the 2007 MLB Draft.
The Rays will follow with right-handers Chris Archer, Matt Andriese and Jake Odorizzi while the Red Sox future rotation is a little less certain.
After Price, Boston manager John Farrell said Clay Buchholz will get the start on Tuesday and then he will be followed by Rick Porcello and Drew Pomeranz.
Originally it was thought that Steven Wright (shoulder) would return from the DL in time to start Tuesday's game but Farrell decided to push his start back to the weekend.
"Wright came out of today's bullpen in good shape," Farrell said. "We're likely to get another bullpen for on Tuesday for Steven and that would put him in line for the weekend series in Kansas City."
Meanwhile the Rays (52-70) are coming off of taking two of three from the AL-West leading Texas Rangers and have one of the hottest pitching staffs in the majors right now. Archer is coming off of one of his best starts of the year and Odorizzi is 5-0 since the All-Star Break.
"We're very capable of winning," said Rays lefty Drew Smyly, who is 4-0 in his last six starts. "Texas is a first-place team, they've been in first place all year. It's just consistency."
Rays manager Kevin Cash said that too many times this season the Rays followed short winning streak with longer losing slumps.
"It just seemed like for a while we would win two or three and then turn around and lose five or six in a row and we struggled with those comeback games," Cash said. "But if you look at the Texas series and the way we started it and turned things around quickly to finish strong. That's what I want to see from this team."
The Red Sox should get some additional help in the outfield when they activated Chris Young from the disabled list before Monday's game. Young went down with a hamstring injury on June 23 and it looks like he'll return to split time with Andrew Benintendi but Farrell would not confirm that.
"I don't want to say that it would be strictly a platoon when Chris comes back. I don't want to go there," Farrell said. "But I do know that against lefties, we can give Jackie a breather, we can give Andrew a breather, we can rotate through and keep guys fresh as we're getting down the stretch here. Getting Chris back to us gives us a proven major league bat. A quality bat off the bench if needed. So his return to us will be a net positive."
Boston (69-54) split their weekend four-game set with the Tigers.