Boston Celtics explain their only hope for slowing down LeBron James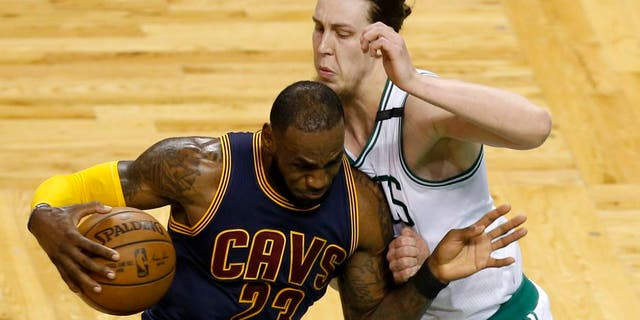 The Boston Celtics have no one who can guard LeBron James, and they know it.
James went for 38 points, nine rebounds and seven assists in winning Game 1 of the Eastern Conference Finals. He's averaging 31, 9.4 and 9.2 against Boston this season.
Coach Brad Stevens tried to make adjustments to slow the Cleveland Cavaliers on Wednesday night and nothing worked. James scored on all seven defenders the Celtics threw at him in Game 1 Jae Crowder, Isaiah Thomas, Marcus Smart, Al Horford, Jaylen Brown, Gerald Green and Kelly Olynyk. And 13 of the Cavs star's 14 field goals came inside the paint.
A day later the Celtics explained what their only hopeagainst James is.
"It has to be a five-man effort; it's not one guy who can really do that," Crowder told reporters Thursday. "But at the same time you have to do a good job of showing it early."
Said Brown: "We've got to have each other's backs a little more. He got to the paint; I think he wanted to establishhimself in the paint. We've got to do a better job of letting him see people in there and have more help defense."
James said the Cavs are mentally preparing for the Celtics' best shot in Game 2.
"There's going to be some adjustments made from both sides. We have to be ready for it," James told reporters. "Obviously, we don't know the exact adjustments, but we know they're going to make adjustments. That's what good teams do, and we have to be ready for whatever they bring to the table."
The Associated Press contributed to this report.