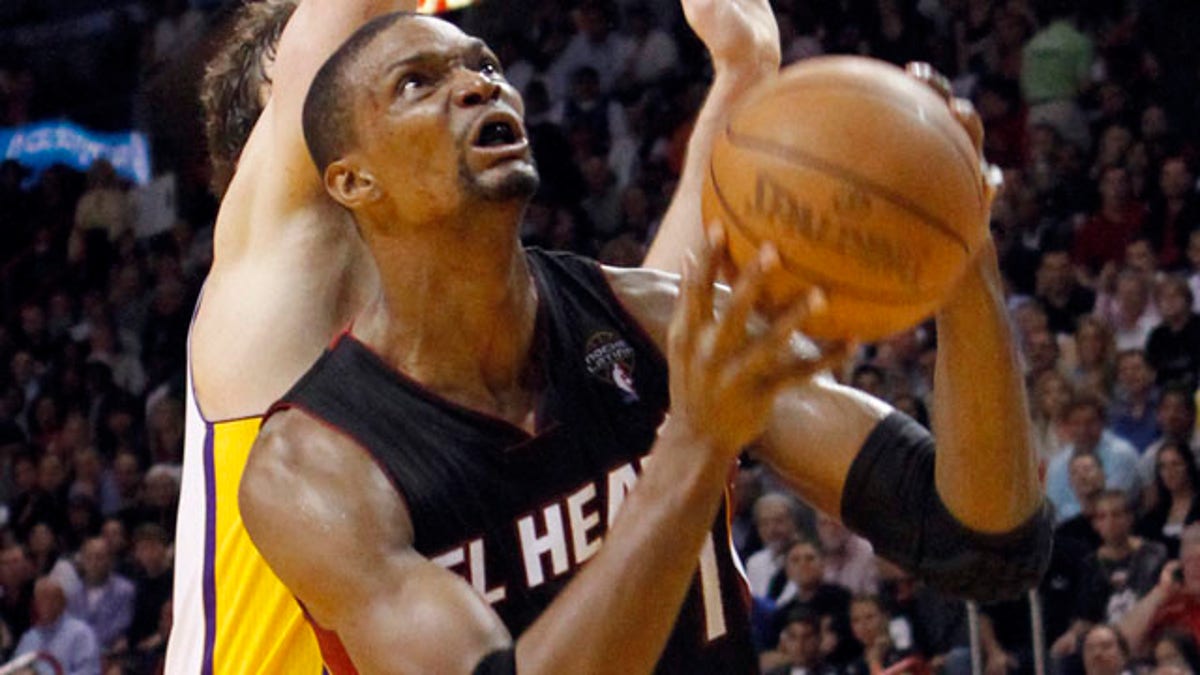 MIAMI (Reuters) - Chris Bosh stepped up to help the star-studded Miami Heat snap a five-game losing streak with a 94-88 win over the two-time defending NBA champion Los Angeles Lakers on Thursday.
Bosh, who had complained about his limited role in the team's offense during their slump, led Miami with 24 points and nine rebounds as the Southeast Division-leading Heat secured a playoffs berth.
"I was aggressive coming to the ball, but they were unselfish dumping it to me," Bosh told reporters. "I wasn't playing around. I was just going to focus on going hard."
"This was an opportunity to really just keep our composure and execute down the stretch, get stops when the pressure was on, make plays when the pressure was on," Bosh added.
"It was there the entire last three minutes. I think for our mind and our psyche, it was very important."
Wade added another field goal and James secured the win with two free throws with 19 seconds remaining to end the Lakers' eight-game winning streak.
"We've got to keep on moving forward," Heat coach Erik Spoelstra said.
"The important thing of going through a stretch like that, the guys did not collapse. The guys want to make this work. The more we're in this, the more confident we'll get.
"But this is one game, we're not over the hump. We still need to improve and get better."
"I think they (Miami) can play better than they did," Lakers coach Phil Jackson said. "I hope to see them again sometime this year."
(Reporting by Mike Mouat in Windsor, Ontario; Editing by John O'Brien; To comment on this story email sportsfeedback@thomsonreuters.com)