Boris Diaw traded to Jazz, thanks Spurs fans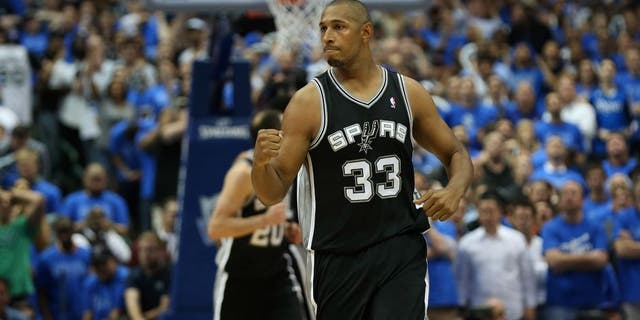 NEWYou can now listen to Fox News articles!
SALT LAKE CITY (AP) -- The San Antonio Spurs have traded Boris Diaw to the Utah Jazz for point guard Olivier Hanlan, a person with knowledge of the deal said Tuesday.
The person spoke to The Associated Press on condition of anonymity because league deals do not become official until Thursday. TheVertical.com first reported the trade.
Diaw tweeted, "Spurs' fans, thanks for all your messages. Great years here and a ring! Leaving but San Antonio will always be a special place to me."
He added in another tweet, "Hey (at)utahjazz and (at)rudygobert27 ! I'm looking forward seeing you!"
The 33-year-old Diaw, a key member of the Spurs' 2014 championship team, averaged 6.4 points, 3.1 rebounds and 2.3 assists last season. He has two years remaining on his contract with 2017-18 being non-guaranteed, according to Spotrac.com.
Hanlan was a 2015 second-round pick by the Jazz. He played in Lithuania last season.
The Jazz have been active in the past few days. The team traded for point guard George Hill and signed free agent forward Joe Johnson to a two-year deal worth $22 million within the past week.
The Jazz went into the offseason looking to spend with a need for veteran depth, another point guard and additional shooting. They added Hill in a three-way trade with the Pacers and Hawks to give them a tested veteran.
Johnson gives the Jazz a proven scorer and veteran as they try to climb the standings with a promising young nucleus including Gordon Hayward, Rudy Gobert, Derrick Favors and Rodney Hood. Dante Exum, the 2014 No. 5 overall pick, is set to return from a torn ACL this season.
"That's exciting for me," Jazz second-year forward Trey Lyles said. "It's a guy I can learn from who's been through the league for a few years and he plays a similar spot as me. So I'll be able to latch onto him and get some words of advice."
The Jazz finished 40-42 last season and missed the playoffs.