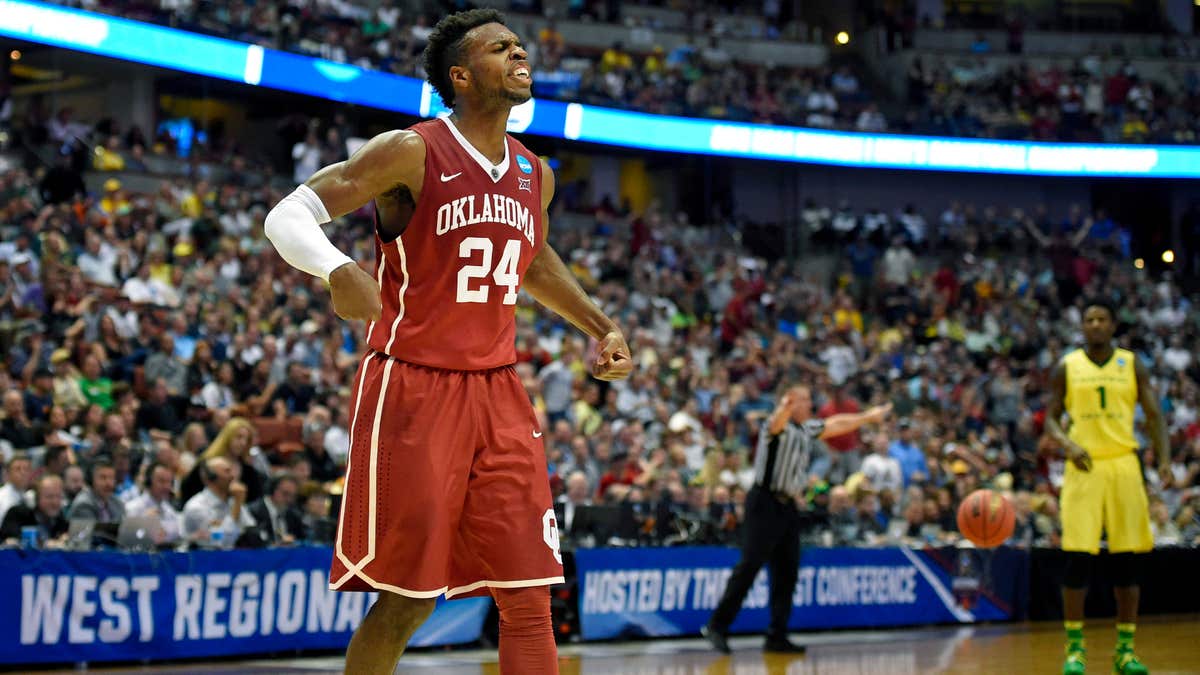 ANAHEIM, Calif. – Oregon won a school-record 31 games while claiming the Pac-12 regular-season and tournament titles. The Ducks were a No. 1 seed in the NCAA Tournament for the first time, and they advanced confidently to the brink of their first Final Four since 1939.
And then they met Buddy Hield.
Oklahoma's star scorer hit eight 3-pointers while dropping 37 points on the Ducks, leading the Sooners past Oregon 80-68 on Saturday to end the Ducks' remarkable season.
Elgin Cook scored 24 points for the Ducks (31-7), whose 11-game winning streak ended one game shy of the second Final Four in school history. With Hield hitting one dramatic shot after another, Oregon fell behind by 18 points in the first half and couldn't get back in it despite the combined efforts of a deep, balanced roster.
"No one expected it," Cook said. "We were confident. We believed in each other, but this hurts a lot."
Oregon had beaten six NCAA Tournament-bound teams by double digits during its winning streak, but Oklahoma's outside shooting and rebounding led to a first-half hole that was too deep for the Pac-12 champions. Hield had the highest-scoring performance against the Ducks all season.
Hield scored 17 points in the first half, capped by drilling his fifth 3-pointer from three steps behind the line with 4 seconds left to put the Sooners up 48-30 at the break, matching Oregon's biggest halftime deficit of the season.
He hit two more huge 3-pointers down the stretch, including a graceful, high-arching shot with 4:20 to play that pushed Oklahoma's lead back to 17 points. Cook played solid defense for long stretches against Hield, but the Ducks could only watch and wonder as he carved up their defense from all distances with his smooth outside shot and a knack for momentum-swinging buckets.
"I thought he had a phenomenal game," Oregon coach Dana Altman said. "And every time I felt like we were getting ready to do something, he would jump up and make a shot."
Jordan Woodard added 13 points for the Sooners (29-7), who are in the Final Four for the fifth time in school history. The regional final was a monument to the formidable talent of Hield, the Sooners' senior star who passed on NBA riches for another chance to reach the Final Four.
Even Orange County resident Kobe Bryant watched admiringly from the stands, prompting some Oregon players to compare Hield to the Lakers' retiring superstar.
"I'm not Kobe Bryant," Hield said with an embarrassed grin. "They should not compare me. I just make shots. Me and Kobe (are) in two different classes."
Dillon Brooks, the Ducks' leading scorer in the past two games, managed just seven points before fouling out.
"Buddy Hield just willed them to a win," Brooks said. "We had a poor first half. We dug ourselves a huge hole. We were down 18, and we were fighting in the second half, but we couldn't get it back."
EXPERIENCE COUNTS
Oklahoma capitalized on its veteran consistency in the one-and-done era. Hield started alongside Ryan Spangler, Woodard and Isaiah Cousins for the 104th consecutive game, and every Oklahoma starter contributed to a poised, resilient performance.
EARLY GOING
Oklahoma jumped out to an early lead with 11 points in the first 5:08 from Hield, including a trio of 3-pointers. The Sooners also hit the offensive boards from the start, generating several easy buckets off rebounds. Oregon looked jittery, as evidenced by seven turnovers in the first 12 minutes for a team that's usually cautious with the ball. Oklahoma had nine 3-pointers in the first half — the same number of total baskets managed by Oregon.
TIP-INS
Oklahoma: Hield became the second-leading scorer in Big 12 history during the first half. He trails only Baylor's LaceDarius Dunn. ... Hollis Price and Aaron McGhee led coach Kelvin Sampson's Sooners to the Final Four 14 years ago, only to lose to Indiana in the national semifinal.
Oregon: Cook became Oregon's career NCAA Tournament leader with 119 points, 49 rebounds and 39 free throws made. ... The loss was the Ducks' worst in NCAA Tournament play since an 18-point loss to Kansas in 2002.
UP NEXT
Oklahoma travels to the Final Four in Houston.