Boom! Jets bruising running back Chris Ivory packs a punch, tough to tackle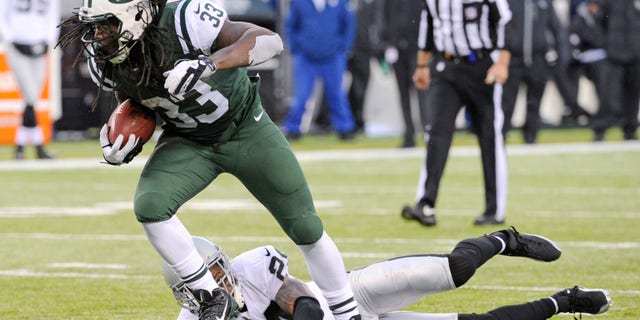 FLORHAM PARK, N.J. – Jets running back Chris Ivory is establishing a reputation for being one of the NFL's most physical players.
From dragging players along the field or powering through tackle attempts, Ivory is one tough guy to bring down. His average of 3.1 yards after contact leads NFL running backs.
He's also a dangerous blocker, as witnessed by Oakland's Sio Moore, who briefly left last week's game after taking a bone-rattling pop from Ivory.
Ivory says he'd prefer not to get hit but he refuses to shy away from contact, looking to make "explosive plays."
Wide receiver Santonio Holmes says Ivory's physical approach is a spark for the rest of the offense, and right tackle Austin Howard says his teammate is just "a thumper."
___
AP NFL website: www.pro32.ap.org