Booker leads Suns runaway win in summer league opener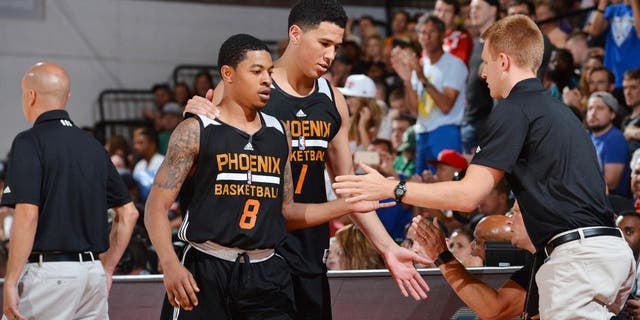 NEWYou can now listen to Fox News articles!
Devin Booker scored a game-high 28 points as the Phoenix Suns defeated the Portland Trail Blazers 86-73 in the Las Vegas Summer League opener for both teams on Saturday.
Booker was 11 for 21 from the field, including 3 for 5 from 3-point range, with eight rebounds and six assists as the Suns went wire to wire, leading by as many as 18 in the second half.
"Things got a little chippy out," Booker said, "and that's what you expect in summer league. Guys are trying to earn their spot.
Booker's time with the summer Suns could be short lived, as he readies to joins USA basketball's select team later this month. That team will help prepare Team USA for next month's Olympics in Brazil.
"That's a lot of the reason I'm here, is getting ready for USA," Booker said after Saturday's win. "It's something I've always wanted to do my whole life, to represent this country, and now I'm getting the chance."
Phoenix (1-0) held Portland to 37.1 percent shooting from the field, including 6-of-26 shooting from long distance. The Suns also showed excellent ball movement with 18 assists to the Blazers' eight.
Dragan Bender, this year's fourth overall draft pick, totaled 12 points, seven rebounds and two steals in his summer league debut. He shot 4 for 13 from the field and 1 of 7 from 3-point range.
"I think Bender got a little frustrated; he missed some shots," Booker said. "But I explained to him, last summer league I missed my first 15 shots and I was so frustrated so I know how he feels right now. I told him it's going to come."
Fellow first-round pick Marquese Chriss was 2 for 10 from the field and grabbed six rebounds. Alan Williams finished with 13 points and 12 rebounds, and Tyler Ulis had 11 points and seven assists.
Pat Connaughton led the Trail Blazers (0-1) with 14 points, despite going 3-for-13 from the field. Noah Vonleh totaled 12 points and 11 rebounds, and guards Russ Smith and Pierre Jackson each scored 11. A 6-foot-11 center, Chris Johnson blocked four shots in nine minutes.
Both teams play Sunday, with the Suns facing the Boston Celtics and the Blazers squaring off against the San Antonio Spurs.