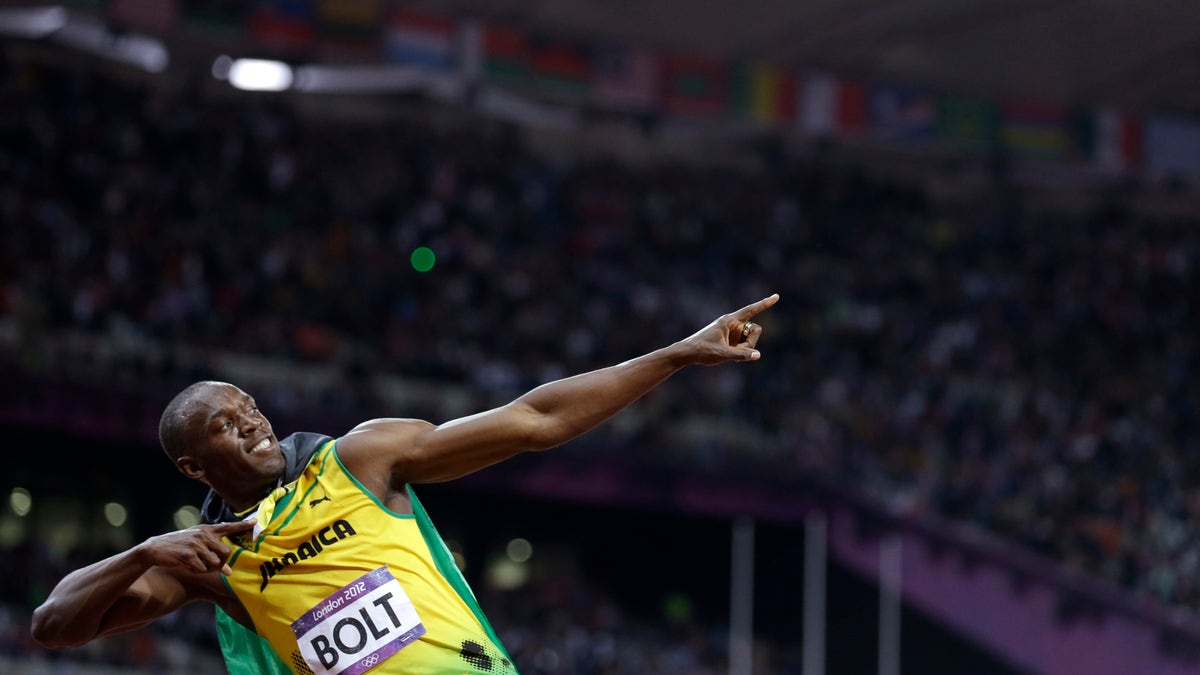 LONDON – For Usain Bolt, there are bigger things to come. For some of the runners lucky -- or unlucky -- enough to race against him in 200-meter qualifying Tuesday, this was the highlight of the Olympics.
Bolt opened defense of his 200-meter title with a stress-free first-round heat of 20.39 seconds, a race in which he powered to the lead early, then eased up to a jog over the final 80 meters.
"I was taking it as easy as possible. It's my first (200) run. I'm looking forward to tomorrow," said Bolt, who runs in the semifinals Wednesday as he tries to become the only man with two Olympic titles in the 200.
The final is Thursday.
The first round was a predictably nonchalant moment for The World's Fastest Man, though it held more significance for Isiah Young of the United States, the runner who lined up next to him in the day's first heat.
"It was different. He's more experienced," said Young, the 22-year-old who finished third to advance to the semifinals. "He knows how to get through this round. I don't think he was all-out at all. I think he was in cruise control."
Of course he was.
Bolt returned to the track a bit more than 12 hours after jumping onto the medal stand to receive the 100-meter gold in a ceremony Monday night. He had tweeted a picture of himself with three Swedish handball players from the early morning hours after his win and explained it Tuesday by saying, "They wanted pictures. We chilled."
No big deal. And now it's back to business, as he switches gears -- from a race that's about straight-line speed to the longer, more technical race that he's always considered his favorite.
"I'm used to the corner, so it came back pretty easily," said Bolt, who has conceded he worked more on the start in the 100 this season than the corner in the 200. "Just looking forward to the next round and to test myself on the corner. I'm feeling good, but my first round, for some reason, I'm always tired."
Also easing into the next round was Bolt's training partner, Yohan Blake, who won his heat in 20.38. While Bolt holds the world record of 19.19, it's Blake with the second-fastest time -- 19.26 -- that cannot be ignored.
"I'm feeling good," Blake said. "I've trained for this. That's why they call me 'The Beast."'
The third Jamaican, Warren Weir, finished his race in 20.29, 0.01 slower than the morning's fastest time, posted by Ecuador's Alex Quinonez.
Also advancing was a pair of runners who finished second and third to Bolt at the last Olympics but didn't get medals to show for it. Churandy Martina of the Netherlands and Wallace Spearmon of the United States both were disqualified for running out of their lanes in Beijing.
Martina won Heat 7 in 20.58 seconds, while Spearmon had to work to finish second behind Quinonez in Heat 6 in 20.47, then complained that he had trouble running in Lane 2.
"It's too tight. Definitely too tight," Spearmon said. "I didn't like it. I don't want to go back there again."
Spearmon, like everyone else, has been keeping a close watch on Bolt.
"He's in shape," Spearmon said. "He's healthy again."
That was no sure thing after Bolt's back-to-back losses to Blake at Jamaica's Olympic trials five weeks ago -- setbacks in the 100 and 200 that injected a large dose of uncertainty into the leadup to these Olympics.
Bolt set the track world back on its axis Sunday night with his 9.63-second run for the gold, the second-fastest 100 in history.
Blake, however, isn't conceding the next big race.
"The track is fast. Usain is really fast. But I'm in great shape," Blake said. "Anything is possible."