Boise State: No assault allegations against Ukwuachu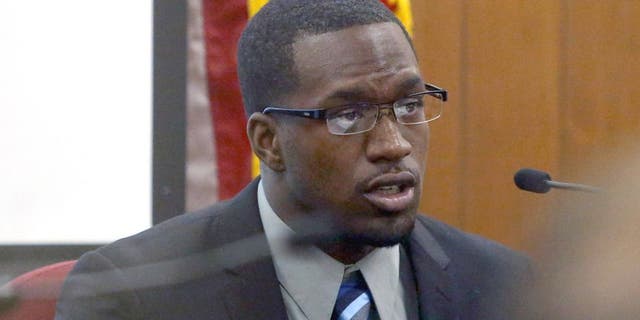 NEWYou can now listen to Fox News articles!
BOISE, Idaho -- Boise State says allegations by Sam Ukwuachu's girlfriend that he assaulted her when they were students there were never reported to school officials and accusations of physical violence against women were not a reason for his dismissal.
''The incidents and factors that contributed to Sam Ukwuachu's dismissal from the Boise State football team had nothing to do with accusations of any sexual assaults or with accusations that he physically assaulted any women,'' the school said Tuesday in a statement.
Ukwuachu, 22, was convicted of sexual assault last week in Waco, Texas, where he had transferred to Baylor from Boise State in 2013.
Boise State said it ''never received any reports nor had any knowledge of Sam Ukwuachu being involved in any accusations of sexual assault before or during his time at Boise State.''
During Ukwuachu's trial, his former girlfriend from Boise State testified he choked and hit her. Boise State said that was not reported to school officials, but the university has requested transcripts of the woman's testimony and will begin a Title IX inquiry into the incident.
''That inquiry, like all such inquiries, will not be subject to public records requests for privacy reasons,'' Boise State said.
Ukwuachu started 12 games at defensive end at Boise State in 2012, but was dismissed by then-coach Chris Petersen from the team in spring of 2013 for unspecified disciplinary reasons. He transferred to Baylor and sat out the 2013 season as required by NCAA rules. He did not play in 2014 either.
Last week he was sentenced to six months in jail and 10 years of probation for sexually assaulting a Baylor women's soccer player in 2014. Baylor police investigated the case and did not move forward with it. Local authorities eventually decided to charge Ukwuachu.
Coach Art Briles has drawn scrutiny for allowing Ukwuachu to transfer into his program, and Baylor has been criticized by local prosecutors for its investigation.
Briles has said he spoke to Petersen about Ukwuachu, who is from Pearland, Texas, and was never told about allegations of violence toward women. Petersen released a statement last week saying he ''thoroughly apprised Coach Briles of the circumstances surrounding Sam's disciplinary record and dismissal.'' On Tuesday, Petersen declined to expand on that statement when questioned by reporters.
In its statement, Boise State said federal privacy laws prohibit the school from releasing information about what did result in Ukwuachu's dismissal from the team.