Boilermakers out to spoil Northwestern bowl hopes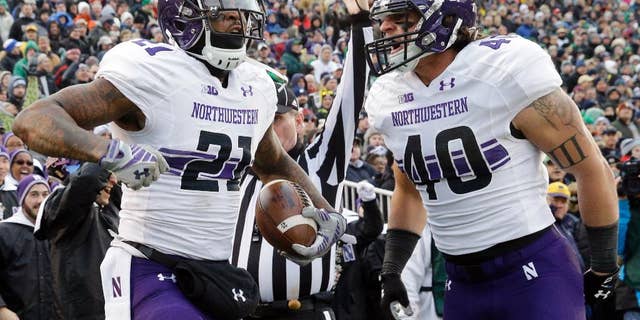 WEST LAFAYETTE, Ind. – For 17 Purdue seniors, there is unfinished business on Saturday when they play Northwestern on senior day at Ross-Ade Stadium.
Coach Danny Hope was fired after their sophomore season, and these seniors have lost all seven Big Ten home games in two seasons under new coach Darrell Hazell.
After a 1-11 record in 2013, the Boilermakers (3-7) are eager to win a Big Ten game in the venue Hazell refers to as "the furnace."
"We want to make a statement and help this tradition grow," senior running back Raheem Mostert said. "We have to push and be sure we get that win. We want to go out with a bang. We want to make an impact. Thinking about this being my last home game really hasn't hit me. It is coming to an end."
Northwestern (4-6) must win its final two games to become eligible for a bowl. The Wildcats have lost four of their last five games but knocked off Notre Dame on the road last weekend in a 43-40 thriller.
Hazell said this senior class stayed the course after a brutal 2013 season when the Boilermakers beat only Indiana State.
"We owe so much to this group of seniors," Hazell said. "We want very desperately for them to experience that success on Saturday. This is such an important game for so many reasons."
Mostert has rushed for exactly 500 yards and three touchdowns and who has returned 30 kickoffs for an average of 21.6 yards. He said he knows the Boilers can beat Northwestern.
"They have had a very interesting season," Mostert said. "The wins they have been able to get - at Penn State and at Notre Dame and against Wisconsin - are big. But they have had a lot of downfalls as well. You never can underestimate any opponent. I will enjoy senior day, but at the same time, there is sadness. It will be bittersweet. It's something I will miss."
Here are some things to watch in Saturday's game:
MASH UNIT
Purdue's pass defense will be bolstered this week with the return of cornerback Frankie Williams, who missed the Nov. 8 Wisconsin game because of a concussion. Hazell said Williams, who has 60 tackles, three interceptions and seven passes broken up, will not return punts but will start at cornerback. Hazell is concerned about tackles J.J. Prince (shoulders) and Cameron Cermin (groin).
USE OF THE BYE
After back-to-back games against physical teams Nebraska and Wisconsin, Hazell appreciated the bye week before playing Northwestern.
"We had a chance to get some rest last week," Hazell said. "We tried to get some guys healthy. We really didn't put them in any action. We let some of them stand on the sideline so we can get them back for the final two games."
IMPRESSED WITH SIEMIAN
Hazell is impressed with Northwestern quarterback Trevor Siemian, who has passed for 2,121 yards and six touchdowns and was very good in last week's overtime victory at Notre Dame.
"I went through the tape on Monday to see the amount of time he holds the ball, and it's less than 2.5 seconds," Hazell said. "That makes him really effective. Teams don't get to him. They really don't. He finds the open guy."
IT'S A DATE
For those who believe in the significance of playing on a certain date, Purdue is 12-4-1 all time when playing on Nov. 22 and has not lost on that date since 1947.
SOMETHING HAS TO GIVE
Northwestern ranks last in the Big Ten scoring at 20.5 points a game, but Purdue ranks 12th among the league's 14 teams in scoring defense, allowing 31.9 points a game. Northwestern scored 43 points last Saturday at Notre Dame but had scored only 50 combined points in the four games before upsetting the Fighting Irish.